Finding secret coves and amazing spots with breaking views is one of this island's authentic experiences. As local experts, at Mi Casa Tu Casa we want to make sure you discover and enjoy the essence of Ibiza, and this is why we are taking you to a very special place called Atlantis.
Getting there on foot though is not for the faint hearted and involves quite a steep descent with the return ascent being especially tough going in the height of the summer heat. If you ever get the chance to go by sea you can drop anchor close by and swim to the cove. Hippies in the 50s and the 60s often visited this place to find peace, harmony, quiet and reflection.
Although named after the long lost Atlantida, the mythical island that Plato described in the dialogues Timaeus and Critias, Atlantis does not contain the remains of a lost civilization.
The story goes back in the 16th century when it was a quarry with the stone being extracted and then taken by boat for use in the construction of the walls of Dalt Vila's Fortress, now a UNESCO World Heritage Site.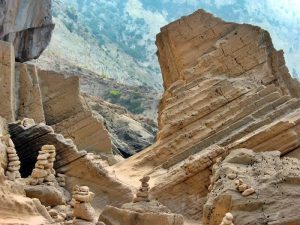 However, this stunning city-like structure on the water was an important gathering spot and over the years artists left their mark by carving faces, dragons, signs of peace and other symbolic imagery into the rocks. The entire place consists of curious rock formations that resemble a labyrinth, with routes, walls, and several natural pools with turquoise waters that almost look like man-made. You truly feel like standing on top of the the edges of an ancient sunken city emerging from the waters. Located close to the magical and legendary rock of Es Vedrà, Atlantis is said to be one of the most spiritual places in the world. There is certainly a feeling of peace and serenity, wonder and awe, Ibiza's unique energy the island is so famous for, feels almost tangible here.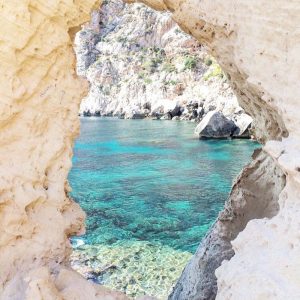 Remember to bring sneakers, water and goggles. This beach is one of Ibiza's best hidden gems and a dip in the natural saltwater pools is something to experience before lying out under the Mediterranean sun on the surrounding rock formations. On your way back, we recommend you enjoy the views of Es Vedra from the top. A short hike from the car park will take you to the viewing platform or the Ibiza Tower of Es Savinar. Sunsets there are magical and even ceremonial, whilst a spontaneous wave of applause sweeps through the crowd to salute the sun.