Here at Mi Casa Tu Casa Ibiza, we are passionate about property development and creating beautiful holiday homes. What makes us different from other villa rental companies in Ibiza? We don't only rent out beautiful villas but over the last seven years we have managed several development projects and overseen a variety of other works on behalf of the owners of the villas in our portfolio.
Working closely with well known local architects brings an added value to our villas as local architects have a good understanding of the space, island's light & materials, as well as they work to preserve all the charming of Ibiza's architecture whilst adapting it to modern functionality. We feel that homes designed with these criteria in mind will make great villas in Ibiza and wonderful holiday homes.
Let's have a look at our grand design villas.
CAN FRIT
This remarkable new built holiday home is a stylish combination of original farmhouse and modern masterpiece, designed by renown local architect Jaime Romano. The result is a breathtaking modern villa blending perfectly with the surrounding nature. Outside you will find a stunning 20m infinity pool overlooking the countryside.
More info: Can Frit

VILLA SKY
This modern holiday home sits high above the blue Mediterranean sea, in the exclusive area of Roca Llisa. Villa Sky was designed by well known local architect Jaime Serra. It has pure, crisp, modern lines and has a high specified finish making it a stylish and comfortable house to enjoy your holiday in Ibiza.
More info: Villa Sky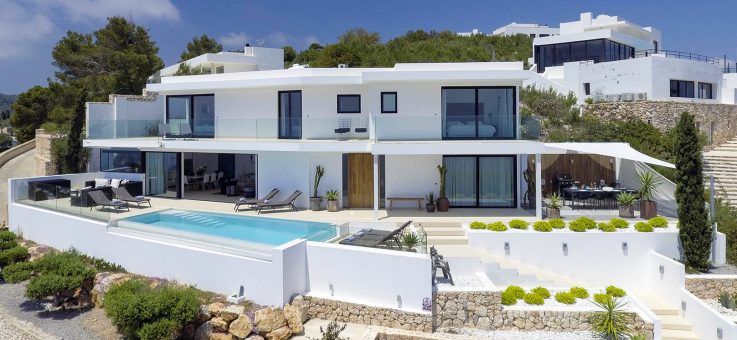 CAN CANTÓ
Can Cantó captures the magic of the campo in a very stylish way. This traditional holiday villa was reformed by renowned local architect Rolf Blakstad. The architect is known for designing based on historical Ibizan architecture, that's why Can Cantó keeps its original charm.
More info: Can Cantó 

CAN LA PI
The villa is perched on a hill, opening up to expansive views of the beautiful Mediterranean sea, interior and exterior spaces fuse together in seamless transition. The renovation project was led by renown local architect Maria Careño.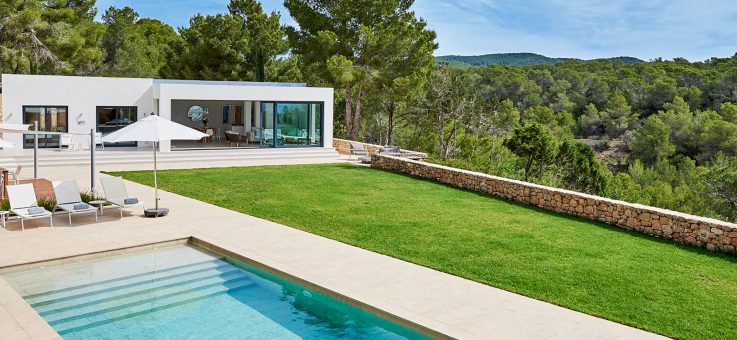 CAN VILDAS
Perched on a hill, Can Vilda boasts some spectacular views across the Ibizan countryside. The origin of this impressive holiday villa dated back hundreds of years but it was completely renovated and expanded in 2007 by renown architect Jaime Romano and now the house blends perfectly the charm of a traditional finca with the clean lines and high-tech materials of modern architecture.
More info: Can Vildas