Ibiza is home to some of Europe's most beautiful beaches, and in Ibiza, where there are great beaches, there are great beach clubs. The island's beach clubs have more followers every year. For those who have never been to one of these exclusive establishments, they are like beach bars, but with a glance of glamour, mostly located close to the sea or right next to a sparkling swimming pool and chill-out areas, scattered with hammocks and parasols. In short, a refuge where you can unwind, relax and enjoy. So how did it all begin?
From the 1930's through to the 1960's, artists, painters, musicians, and writers were visiting, working or living on the island. Then, there was the 'Flower power' movement during the 60s and the 70s that brought hippies from across Europe to the Balearic Islands. An interesting fact is that most of Ibiza clubs started during this period, created from 18th century country-side fincas (traditional houses) which organically over the years grew to be the world's most prestigious clubs like Amnesia, Pacha, Es Paradis, Eden & DC10.

Pacha, famous Ibiza club in the 70s.
The now super clubs, hosting events with internationally known global DJs from around the world, and audiences of 5000 music lovers every night, were once simple rural properties in the middle of nature, surrounded by carob, fig and almond trees. The first, KU, opened in 1978, created by three young basques, Jose Luis Anabitarte (Gorri), Javier Iturrioz and Jose Antonio Santamaria who landed on the island of Ibiza to create one of the most iconic places in the middle of Ibiza's campo. Soon after followed the others.
What made these gatherings so unique and special in the 80s and 90s in Ibiza, was the way they united free spirits from different parts of the world, with different backgrounds and social statuses inspiring them to express themselves, be creative, playful and free. From millionaires, aristocrats, movie, pop and sports stars, fashion designers, to local ibicencos, workers, people from Ibiza, transvestites, hippies and clubbers, all mixed together. The events took place mostly daytime and carried on until sunrise, spiced up with innovative contests, live music and the feeling of freedom to be who ever you want to be.
The open-air parties came to an end when legislation forced many of the bigger clubs in Ibiza to cover their dance floors in the early 1990s. It's when the beach clubs came on the scene. A beach club is where you experience the Ibiza lifestyle combining great fun, sun, sea and quality service, with a dash of this islands' famous audacity. Open-air venues in a dreamlike atmosphere with unbeatable views, sand in your feet and great music from noon to midnight. A perfect place to savour a cocktail and enjoy an exceptional selection of culinary delicacies.
Ibiza's first beach club, Tropicana Beach Club, opened over 30 years ago. Toni Marí, the mastermind behind the concept, moved shorelines and sea levels to make his dream come true, knowing even back then that tourists who seek quality look for tranquility and unique places. "And that is what we will give them." – said and done. Tropicana has been a point of reference ever since, a beach club with a restaurant, beachfront bar, comfortable sun-beds and massage tents, located in Cala Jondal.
Ibiza has changed quite a lot since the 90s. While the glamour and the celebrity fever has widened considerably over the recent years, Ibiza beach clubs still succeed in conserving the laid-back ambience and unique bohemian island spirit. Check out our list of the ones that open very soon, have a look at their weekly events to choose where to go, and make sure to book in advance.
Alma Beach Ibiza, Port d'es Torrent
Opens the 12th of March 2022
Enjoy an elegant dining experience in a modern-bohemian setting located in the cove of Port d'es Torrent in Ibiza.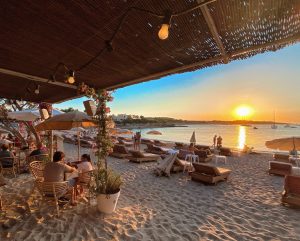 Experimental Beach Ibiza, Las Salinas
Opens the 1st of April 2022
Enjoy an elegant dining experience in a modern-bohemian setting located in the cove of Port d'es Torrent in Ibiza.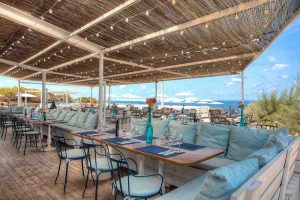 El Chiringuito, Cala Gracioneta
Opens the 1st of April 2022
Exquisite Mediterranean flavours in a quiet spot in a hidden cove with crystal-clear waters on the San Antonio coast.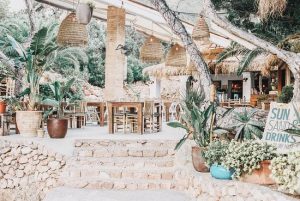 Cotton Beach Club, Cala Tarida
Opens the 7th of April 2022
Decked all in white chic furnishings, this luxurious Ibiza beach club overlooks beautiful Cala Tarida.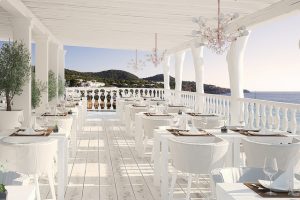 Sa Trinxa, Las Salinas
Opens the 8th of April 2022
Sa Trinxa Restaurant, in Salinas, is one of those mythical places in Ibiza where you can savour a jag of cava sangria and  dance in the sand.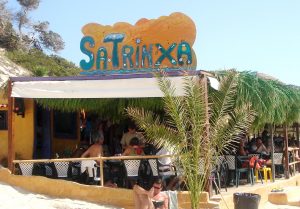 Nassau Beach Club, Playa d'en Bossa
Opens the 8th of April 2022
Nassau Beach Club is a fabulous luxury experience, with amazing sea views, great music, and excellent culinary options.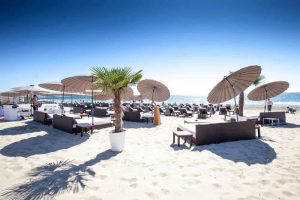 El Chiringuito, Es Cavallet
Opens the 12th of April 2022
Located in the dunes of the beautiful Es Cavallet beach in the Nature Park of Salinas, El Chiringuito is an elegant, relaxed beach club, featuring a great seaside restaurant.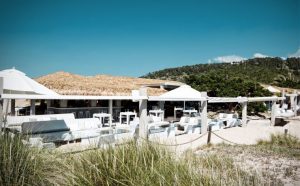 Tropicana Beach Club, Cala Jondal
Opens the 14th of April 2022
Tropicana Beach Club offers a wide and varied range of services, five-star dining and music allowing you to make the most of your day on the ultra-trendy beach Cala Jondal.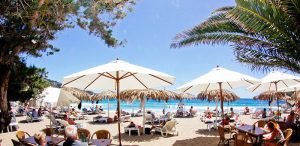 Tanit Beach Club, Playa d'en Bossa
Opens the 15th of April 2022
Tanit Beach Club is a great spot with refined decor, located directly in front of the sea, offering excellent service & exquisite food.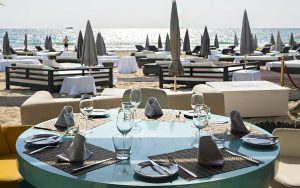 Amante Beach Club, Cala Llonga
Opens the 22nd of April 2022
Amante, perched on a cliff and surrounded by dramatic rocks and lush greenery, is perfect for long daytime lunches and fine dining in the evening breeze.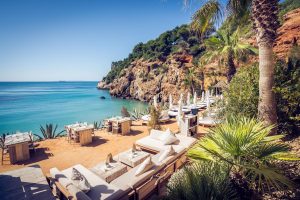 Beso Beach, Las Salinas
Opens the 27th of April 2022
The kind of beach bar vibes most people dream of when planning a Mediterranean getaway, with a gentle breeze, amazing lounge music, and authentic local specialties.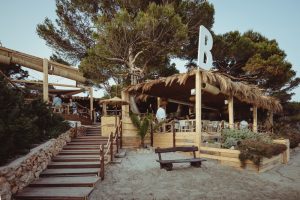 Blue Marlin, Cala Jondal
Opens the 1st of May 2022
Blue Marlin Ibiza is considered one of the best beach clubs in the world, located in a sacred place under a beautiful pebble cove at the southwest of the island.