In this series of blogs we will explore some of Ibiza's incredible exports and where you can find them. So if you want to take a little slice of your Ibiza holiday home with you read on….
Salt production at Ses Salinas can be traced back as far as 540BC when the Carthaginians conquered the Island. It fell under the rule of the Roman Empire in 122BC until the island was conquered by the Vandals and Byzantines. The pay of a Roman soldier consisted partly of salt and was called "salarium argentum," meaning "salt money," hence the present-day English word, "salary." 
For many years salt production techniques on the Salinas salt flats remained much the same until the Spanish "Reconquista" in 1235. As important technical advances were made salt quality rose and as much as 25,000 tons of salt a year were being produced in Ibiza. As Salt was a common means of preserving food the island's salt production was held in high regard.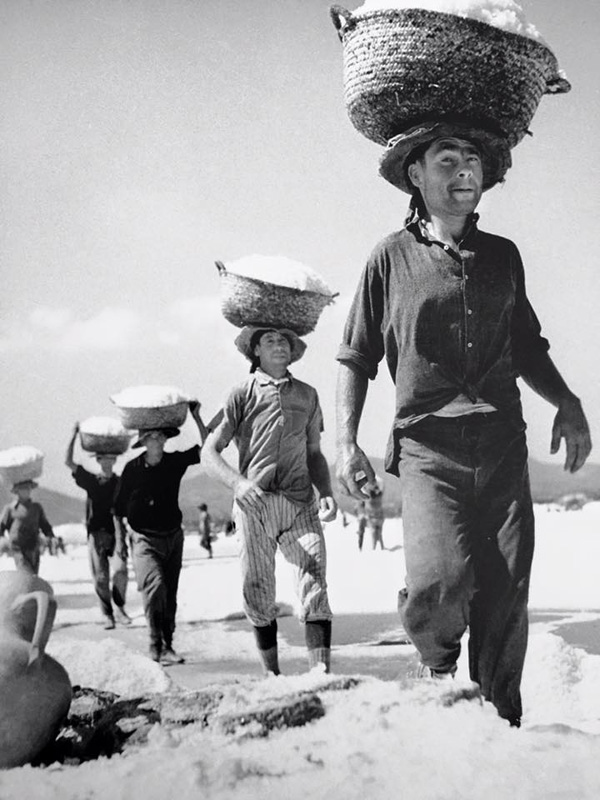 The salt harvest was usually performed in the gruelling heat of July and August. Once the sea water has evaporated the sea salt is left behind and collected. Men from all over the island would come hoping to find work. Huge baskets full of salt would be carried on the head of each worker and taken to boats or barges which were then transported around the world. Conditions on the salt flats were notoriously brutal for many years which only changed once the process became mechanised a few hundred years ago.
After the Spanish war of succession in 1715 the salt works were put under administration of the crown and although production continued, new food preserving techniques meant that output dropped to just 7,000 per year in the 19th century.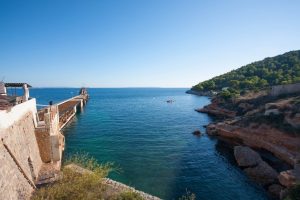 In 1871 the facility was sold and in 1878 they founded "Fabrica de la sal de Ibiza" the basis for today's operating company Salinera Espanola SA and by the 1800's output had risen to as much as 50,000 tons of salt a year.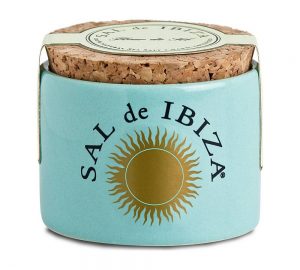 Much of Ibiza's salt is now sent to be used in industrial processes. But the finer flor de sal  is used by  young innovative company  Sal de Ibiza The salt is ground in ancient stone mills and now is available in  variety of products from simple packs of salt mixed with local herbs , to the wonderfully tasty salted crisps (which you will find in your villa welcome pack of you stay in a Mi Casa Tu Casa villa) It's a totally natural product without preservatives or additives and usually has a very light hint of pink to it.
Parque Natural de Ses Salines was declared a World Heritage Site by UNESCO in 1999. Every October you can enjoy The Salinas Salt Festival or Fira la Sal where the rich culture and heritage of the island's salt production is celebrated.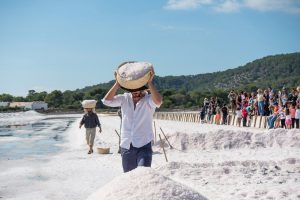 The natural park is also home to a wealth of nature, including flamingos, several types of falcon, waders, waterfowl, herons, egrets and osprey. If you fancy exploring the area during your stay in Ibiza then head to Walking Ibiza to find out more about their guided walks. Alternatively park up and enjoy exploring at your own pace. We definitely advise finishing off with a glass of something cold whilst enjoying the stunning sunset at Experimental Beach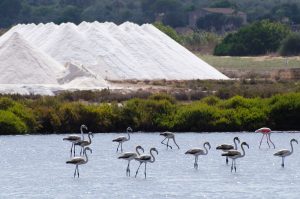 If you want to take a little bit of the magical island back with you from your Ibiza Holiday head to Sal de Ibiza for stockists across the Island. If you are staying in one of our Ibiza villas then you will receive in our welcome pack a bag of the very tasty Sal de ibiza salted crisps.