The Balearic island of Formentera is Ibiza's chilled-out little sister, beloved for its sensational beaches and off-grid laidback vibe and if there is one good reason why many people are drawn to Formentera, it's the beaches. The best of them, such as Migjorn, Illetes and Llevant, are long, long swathes of gorgeousness, with creamy white sand and water that dazzles with perfect clarity. In any listing of the best beaches in the Mediterranean, these must surely come somewhere near the top. Many people affirm that these beaches are as fine as those of the Caribbean.
There's no doubt that the most famous beach in Formentera is Ses Illetes, is on the sand-spit running north towards Ibiza. For decades this has been Formentera's fashion beach, to which Euro groovers come for day-trips from Ibiza after a hard night at the clubs. There is no infrastructure here apart from a series of wood-built beachside restaurants; no showers, no sunbeds, no swimsuits (most of Formentera's beaches are unofficially nudist). Illetes is beach life for folk who want to keep it simple – then head back to the yacht.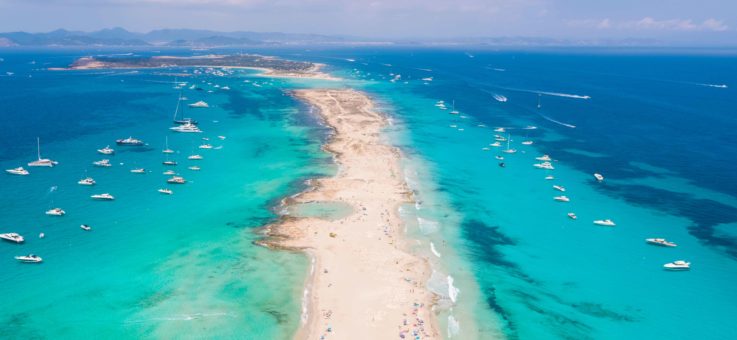 From the Illetes Beach in Formentera you just have to cross the sand dunes to get to the other side of this narrow peninsula. There you will find another long beach called Llevant (Levante). In this side of the peninsula there's always more wind and therefore there are more waves. It means of course that this beach is much less busy even in high season than Illetes. Llevant is the favorite beach of surfers.
Somewhat distant from the more urban beaches you will find Caló des Mort, this secluded cove is found in the South of Formentera, and it is part of the Migjorn Bay. This cove is very small, and there's only a tiny beach there, but it's considered as one of the most precious beaches in Formentera. As it's quite small and fairly popular, it can get very crowded in summer, so get there early if you want space for your towel.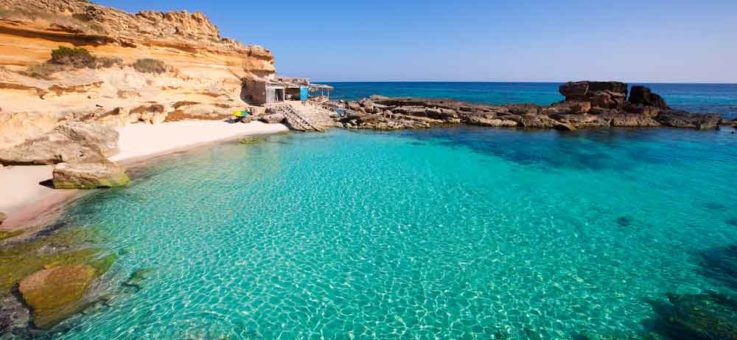 The Playa Migjorn is the longest beach on the whole island, occupying most of the Southern coast of Formentera. It's the favorite beach of many locals, since you can always find calm places with less people along this long beach. The beach is surrounded by giant sand dunes, pine trees and accommodations with sea view. Apart from taking a bath and enjoying relaxing moments on the beach, Migjorn Beach is also a great place to do sport on the long wooden walkway that was built there. There are also nice seaside restaurants and bars here, a perfect way to enjoy the breeze of the sea with a cocktail in your hand.