If you both love traveling and share the sense of adventure, then skip the flowers and the chocolate and plan a romantic getaway to Ibiza. This beautiful Mediterranean island is known for its stunning landscapes, beautiful beaches, and lively nightlife. However, it is also a perfect destination for couples looking for an intimate and romantic getaway. With its tranquil and secluded spots, picturesque scenery, and range of activities, a couples' escape to Ibiza is sure to be unforgettable.
The weather in Ibiza
The weather in Ibiza is warm and sunny all year round, making it a perfect destination for those seeking some sun and relaxation. The clear blue skies and warm sunshine will allow you to soak up all the beauty that the island has to offer, making it the perfect setting for a romantic escape.
Your perfect love nest
For couples and families looking for a truly intimate escape, staying in a villa offers the perfect blend of privacy and comfort, with plenty of space to relax and unwind. For some intimate time away we have a great selection of rental villas that are perfectly set up for smaller groups and offer a highly private alternative to other accommodation options.
Can Coco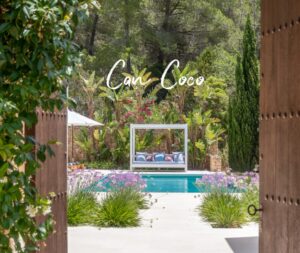 Can Coco is a beautiful five bedroom villa, and with two en-suite bedrooms in the main house and three in the separate annex, it makes a wonderfully intimate setting. At sunset, be prepared for a magical scenery as the vibrant colours of the sky reveal the magnificent beauty of Es Vedrà.
Can Tamanaco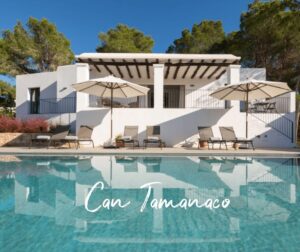 Small and perfectly located in the hills above Ibiza's west coast, enjoying striking sea views and a nightly performance of the beautiful Mediterranean sunset, this villa is a perfect little love nest and an amazing atmosphere for some romance.
Can La Pi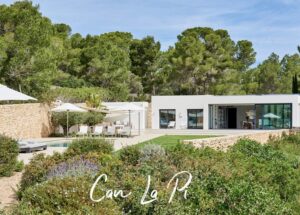 The setting of Can La Pi is both dramatic and charming. It is very private (there is no other house in sight) and it has southerly sea views to the island of Formentera down an untouched pine covered valley. A rare gem indeed and a perfect little house for couples in love.
Can Tomas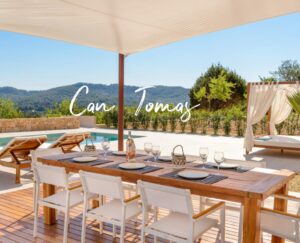 Nestled on the side of a hill surrounded by terraced fields sprinkled with olive, algarroba (carrob) and almond trees, Can Tomas is the perfect romantic hideaway in the middle of nature, with breathtaking countryside views.
Beaches and activities 
One of the biggest attractions of Ibiza is its stunning beaches, and there are plenty to choose from. Cala Comte, Cala Bassa, and Cala Tarida are just a few of the many beautiful beaches on the island. With warm, shallow waters and plenty of space for sunbathing and relaxing, these beaches are perfect for couples. Take a stroll along the beach, prepare a romantic picnic on the rocks of Punta Galera or watch a sunset at Es Vedra.
For those who are looking for a more active experience, there are plenty of activities to keep you busy. From water sports such as kite surfing and windsurfing, to hiking and mountain biking, there's something for everyone. If you're looking for a more relaxed experience, why not try paddle boarding or kayaking, both of which offer a chance to explore the island's stunning coastline. Kayak excursions under the moonlight vibrate with magic and a romantic surprise boat trip to paradise sister island Formentera would be an unforgettable experience.
Restaurants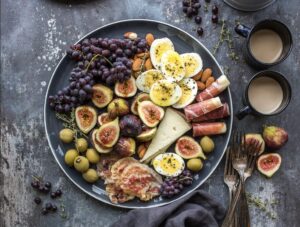 Ibiza is home to some fantastic restaurants and bars, offering a variety of cuisines from around the world. With the island's Mediterranean climate, seafood is a staple on most menus, with fresh fish and seafood dishes being a popular choice. For couples looking for a romantic dining experience, there are plenty of options for intimate dinners, including candlelit dinners on the beach. Check our restaurant guide for more details on restaurants on the island and what they have to offer.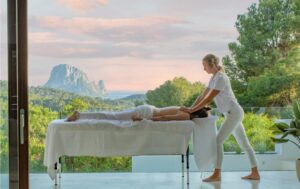 Our complementary concierge is always on hand, helping you organise the holiday of your dreams and taking care of the smallest details, from booking a private chef to organising a massage in the villa to ordering those special flowers. With its tranquil and secluded spots, stunning scenery, and range of activities, this island offers something for everyone. Book your villa today and enjoy an extraordinary holiday in Ibiza!