S'Escalinata                                                
The heart of Ibiza town is known for its tight, winding, white streets with colourful doors and tiny postcard perfect balconies. It's a photographers' paradise, but it is so much more, especially when you want to learn about Ibiza's culture and history. There are archaeological treasures from the 6th century in Museum Puget or if your interest goes to contemporary art then head to the Museum d'art. Even without entering the museums you will certainly enjoy the breath-taking views on your way up. The biggest platform of Dalt Vila is now the stage for impressive events like International Music Summit (I.M.S), The Medieval Festival, the Ibiza Festival of Light and several pop-up cinemas. This makes it a historical centre for everyone.
Dalt Vila, translating as the 'high town'. Is the striking hill top city of Ibiza. It has proven to be a highlight for many a tourist and adds an additional dimension to the island.        
The ancient charming streets, the vibrant restaurants, the stunning vistas from various view points up on the giant city walls; we definitely recommend a visit at whatever time of the year.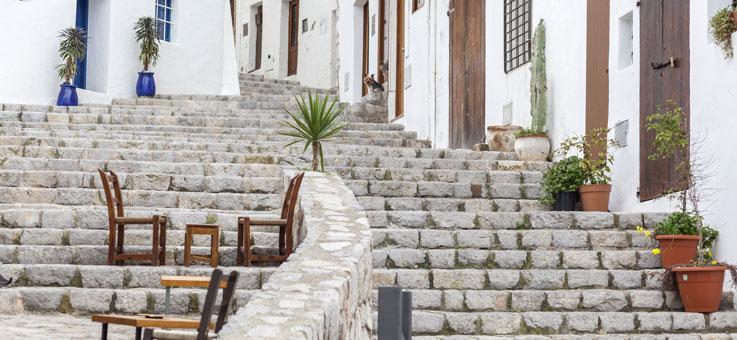 The little 'village' surrounded by the hugely impressive defensive stonewall was declared a UNESCO World Heritage Site for very good reason. It is the best- preserved coastal fortress in the Mediterranean. The cathedral Santa Maria is privileged with the highest position of D'alt Vila. The Italian architect Calvi designed Dalt Vila to defend the town against brutal pirates attacking the town. Since 1999 it became part of the UNESCO World Heritage Site for the well-preserved state of the old town and it's stonewall.                              
If you are visiting Ibiza in summer-time we recommend you to go up at the end of the afternoon and combine it with a delicious dinner in one of the charming streets of Dalt Vila afterwards. We promise you won't regret it.                                        
Don't forget to wear comfortable shoes as the cobbles can be slippy with flip flops and are not made for high heels.