Cycling
Having sat in Mallorca's shadow for years, Ibiza has become an increasingly popular destination for cycling, both road and mountain.
It is now common to see groups of hard-core cyclists whizzing past, on what is often, a very hilly terrain. There are no truly big climbs like the Balearic sister island, but the stunning surrounds and numerous smaller hills will put you through your paces, and make for a dramatic backdrop for a great day. Whilst the island is increasingly catering for hardened riders don't worry if you want a much more casual day. Velo Club Ibiza, run by the affable Simon Rose, offers organized days to suit all levels. There are some great mountain bike treks but whether you are on road or off road you really will see a side of the island you have never seen before. Spring and Autumn are the prime months for cycling. You can go out in July and August too but we recommend you cycle in the early mornings or late afternoons as anywhere in between can be tough with the heat. Don't forget your sunscreen and water!
Horse Riding
Ibiza's forest trails and beaches make it an optimal place for horseback riding. Guides will take you on nature trails during the day or while the sun goes down. You will feel the magic wherever you choose to ride on the island, but we recommend the tours of north Ride Ibiza in San Joan and Can Mayans in Santa Gertrudis that offers offers classes for both groups and individuals. They all work with the hor-semanship techniques and give horses a better life.

For traditional horse riding lessons also try Cuadras Es Puig on the edge of Santa Gertrudis (+34 679 20 99 25, www.cuadrasespuig.jimdo.com)

Kayaking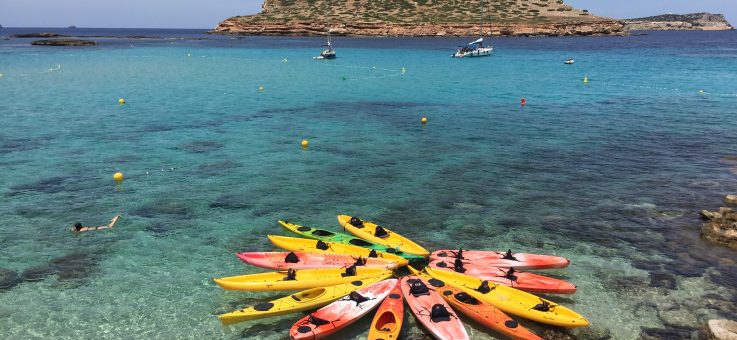 Embark on a picturesque paddle journey along Ibiza's breathtaking rocky coastline, exploring secluded bays and uncovering hidden treasures. Discover secret caves and witness mesmerizing sunsets on the horizon. With a variety of adventure tours suitable for all levels, Ibiza offers a safe and enjoyable experience for family outings, provided the water conditions are calm. Whether you opt for a customized tour or join a larger organized group, a several-hour excursion promises unforgettable moments. Afterward, indulge in some well-deserved relaxation on the beach, soothing your tired arms and embracing the tranquil atmosphere.
Diving
How could you not want to dive deeper into Ibiza's crystal clear turquoise waters? Scuba dive and explore the rich and colorful fauna and flora that is akin to Ibiza's coastal line. Discover the magical world of underwater caves and shipwreck sites. There are many organized tours around the island and the mild water temperatures make for truly optimal diving. Punta Dive is the island's largest dive company and has three dive centre locations on the island with top-notch facilities and equipment on offer. Alternatively, Big Blue Ibiza is a small dive centre in the south west of the island right on the beach at Cala Vadella from where you can visit local dive sites.
Walking
Walking is one of the best ways to discover Ibiza and to gain local knowledge. Get lost in the forests and plug into Ibiza's natural beauty with some of the private and community tours available. We recommend you contact Toby at Walking Ibiza. The routes vary in difficulty so make sure you pick one at your pace. It's a great way to learn more about the history, foraging and local stories that have shaped the island. If you don't feel like a tour and you want to go out on your own there are entire books dedicated to Ibiza's walking trails and there are well-marked walking routes with maps available at the town halls and tourist information centers.
We can also recommend some great routes, our favorite is to go up to Sa Talaia, the highest point of the island, where you will be surrounded by simply stunning landscape with breathtaking views.
Triathlon / Running / Swimming / Cycling Events
If you want to embrace the beauty of this Mediterranean island whilst pushing yourself to the physical max, there are a huge number of individual sporting events. From a relaxed 5km road race to ironman agony, nearly every weekend through Spring and Autumn there will be an event on. Most event details can be found at www.elitechip.net, or speak with us for guidance.