If you yearn for a luxurious clifftop villa with a breathtaking sunset sea view, look no further than the exquisite Villa del Sol. This chic property expertly blends Moorish and Ibicencan architecture to create an impressive, refined, and serene ambiance. Enjoy a stunning 180-degree vista stretching along the west coast of Ibiza and beyond.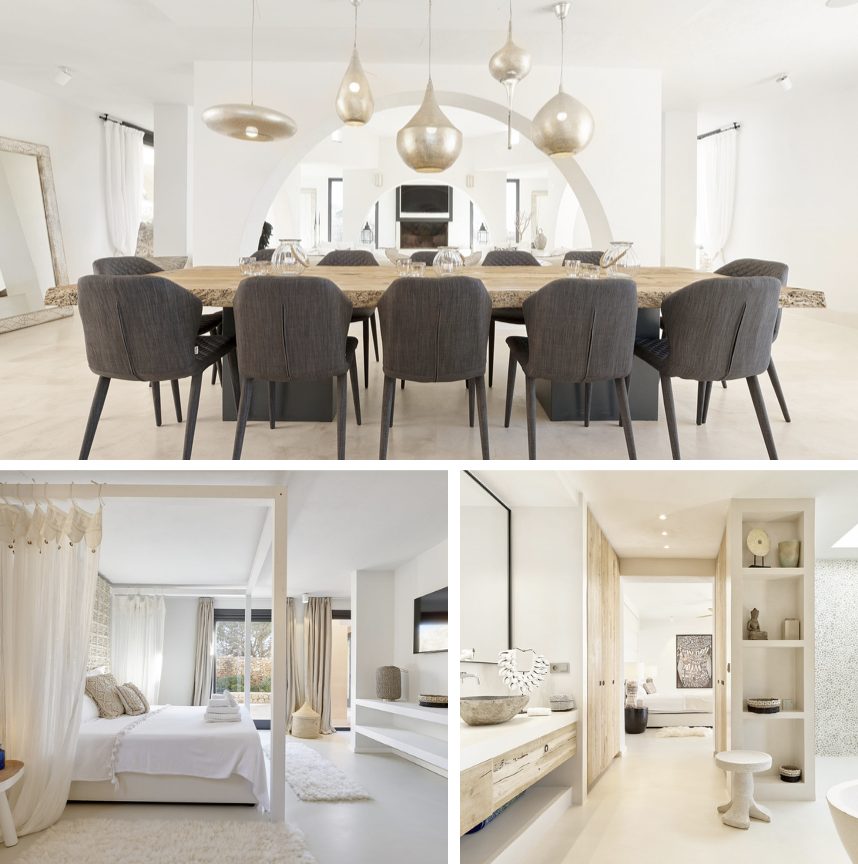 Every corner of the villa exudes an evolving energy – from the cliffside dining and sofa terrace, to the intimate poolside patio, and the elegantly furnished bedrooms. Boasting four ensuite bedrooms of the highest quality, and open plan living, this house has an incredible flow and immaculate taste. Step inside and immerse yourself in a world of style and sophistication. Book this luxury villa today!
What's Close By?
Beautiful Bays
The west coast has a string of strikingly pretty bays (each one with one or more fantastic beach restaurants of course. Just south of Villa del Sol is the protected sandy bay of Cala Vadella which is perfect for families as the water is so calm. Keep going south and you arrive at Cala Carbo, a tiny shingly bay with a relaxed vibe.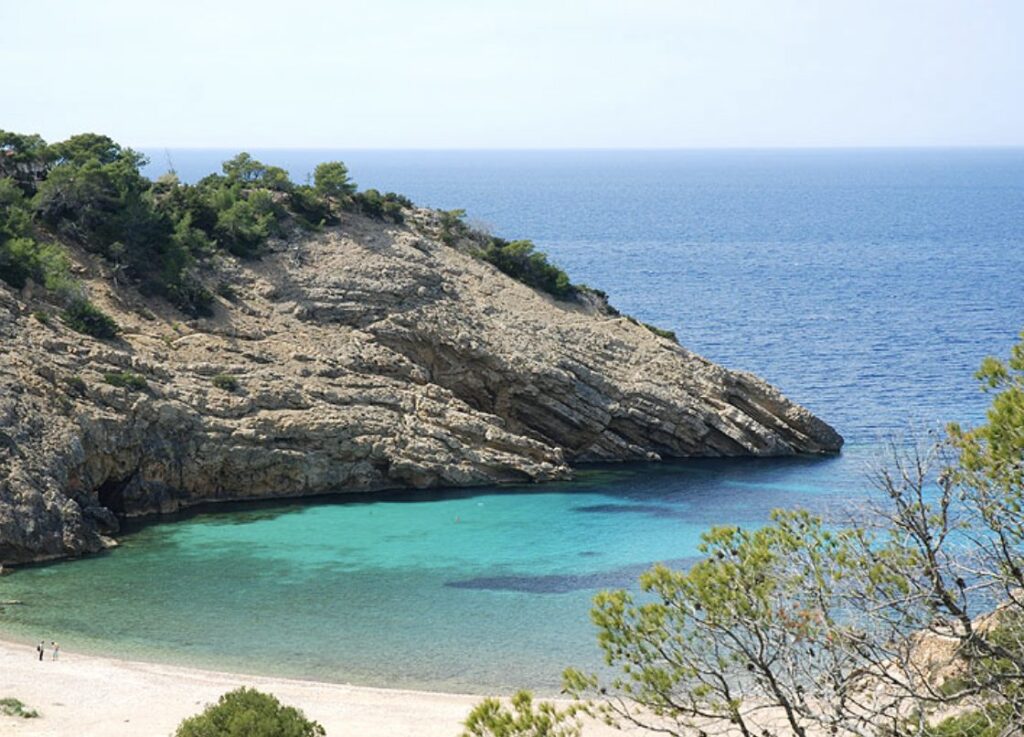 Just 3 minutes to the north of the villa you arrive at Cala Moli which is great for snorkelling and rock jumping for the brave. Further north you get to the stunning Cala Conte which rivals the beaches of Formentera for sand quality and turquoise water. See all west coast beaches.
Delicious Long Lunches At The Beach
There are many excellent restaurants along the coast, but our best picks would be:
Restaurante Can Vicente in Cala Carbo or El Carmen in Cala D'hort – for a truly memorable paella or fresh fish
El Silencio in Cala Molí – for more of a chic beach club restaurant vibe
Can Jaume in Cala Vadella – for a family beach lunch
For more options see our recommended list of west coast restaurants.
San José For Dinner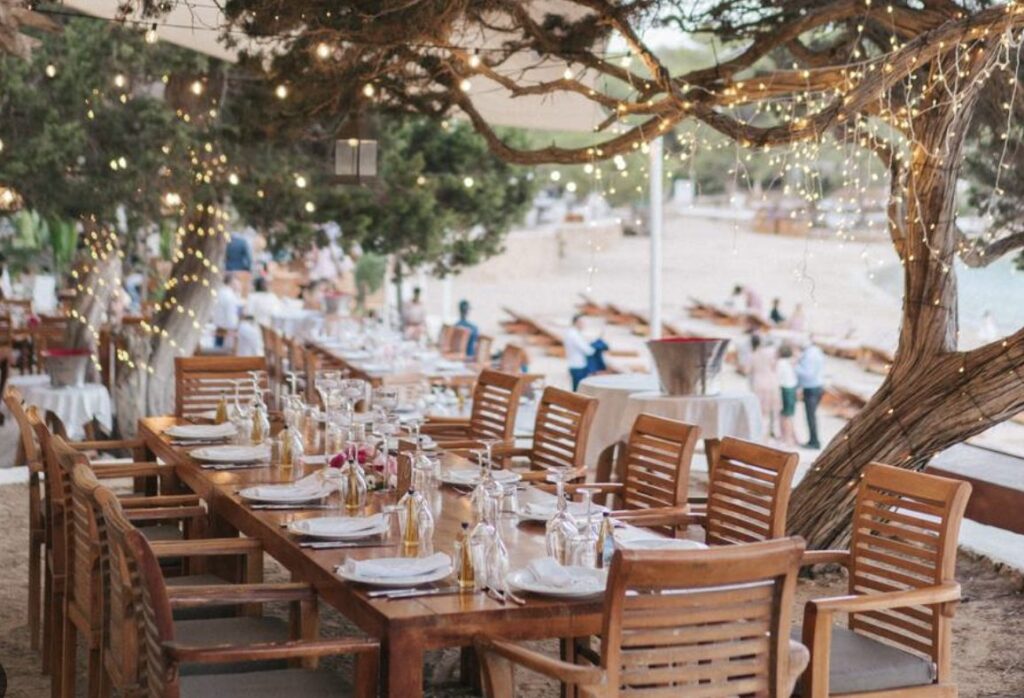 The pretty village of San José is only 10 minutes from the villa and there are some great restaurants for dinner. For some delicious food head to either Can Riku or 60 Grados on the Main Street in the village. For some rustic romance head to the stylish Can Domingo or to Can Berri Vel in the tiny and charming pueblo of San Augustin. View San Jose restaurants.
Es Vedra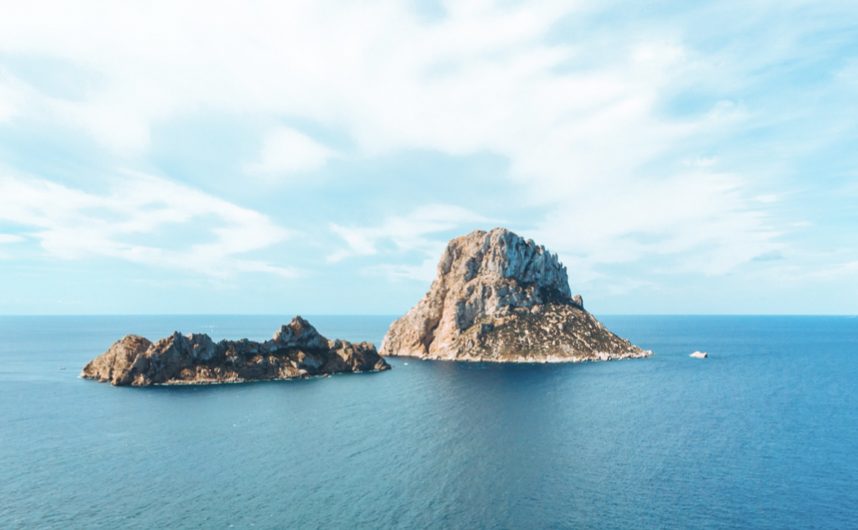 From the villa, looking southwards, in the distance you can see Es Vedra, a 413m high limestone rock island renowned the world over for its magnetic energetic pull. It has been enchanting the island's visitors with its raw natural beauty for centuries. Whilst the magnetism of Es Vedra is perhaps island myth, there is no doubting it's importance in Greek mythology. The island is said to be home to sirens and sea-nymphs, who tried to lure Odysseus from his ship in Homer's Odyssey.
For more inspiration read about all the magical Ibiza spots.
Peak Season Availability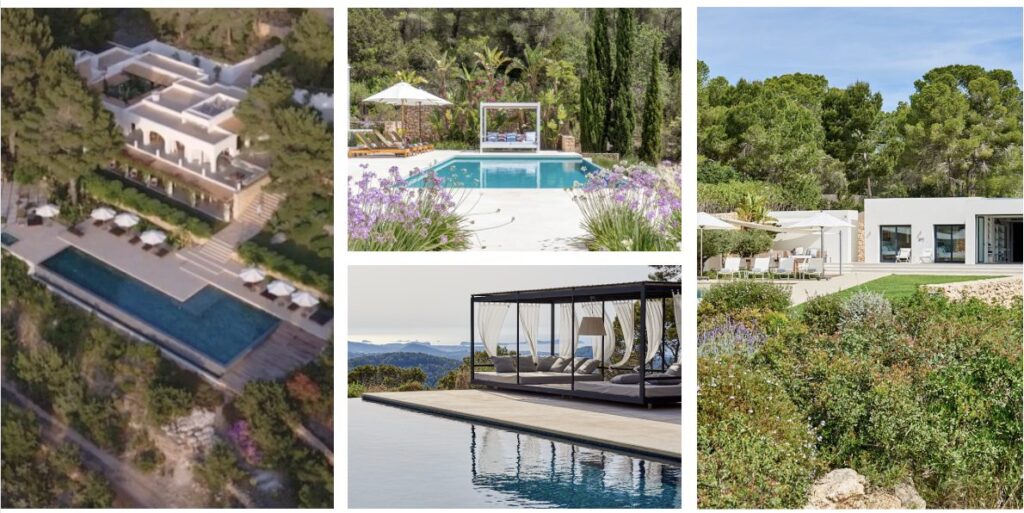 Looking for more luxury villa rental options in Ibiza for your next holiday? See our full villa portfolio that offers an array of beautiful places to stay. For a truly memorable experience, let us tailor a package to suit your exact needs. We offer a wide variety of additional services from private chefs and boat charters, to spa treatments and more. Get in touch today!