Cotton Beach Club, Cala Tarida
Cala Tarida beach was missing a beach club and the Cotton Club has filled that gap. The restaurant is somewhat elevated from the beach with about 50 steps up that need to be climbed but it means the views are fantastic. It's a stylish venue offering a very good Mediterranean menu, and when you add in the striking setting it is a real treat for summer dining. Highly recommended
Bon Sol, Cala Vadella
Bon Sol is a fun beachside family restaurant which ticks a lot of boxes especially for the kids. Mediterranean Italian food with a focus on pizzas in the very pleasant surroundings of Cala Vadella right in the middle of the beach.
+34 971 808 213
Facebook: Bon Sol
Sunset Ashram, Cala Conte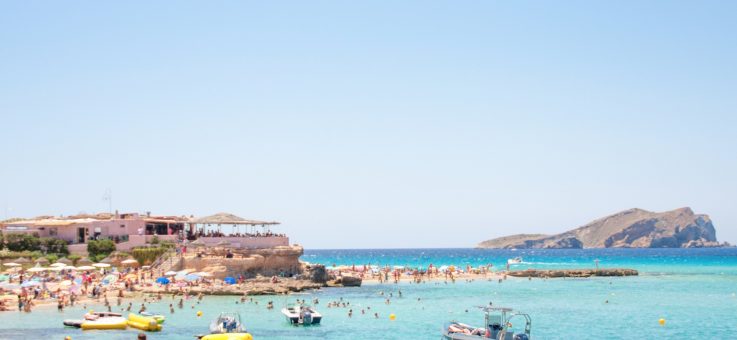 We love this place. It´s just wonderfully Ibiza. A slightly hippy vibe, with a DJ playing supported by the odd live musician, great cocktails and good food, albeit slightly slow chaotic service in mid summer. It won´t be winning a Michelin star but the Asian Med blend menu works perfectly well as you see the sun melt into the ocean. The best sunset spot on the island? Without a doubt in our opinion. A nice beach to spend the day too with Formentera-esque turquoise waters. Family friendly and very laid back. Definitely come for a cocktail at the very least.
Cala Bassa Beach Club
Cala Bassa is a beautiful west coast bay with perfect swimming water and lovely sand. The beach club is a very good place to head with young kids. Perhaps it is best to avoid the bay in mid July and August when the glass bottom boats come in packed from San Antonio but otherwise it's a lovely spot to enjoy a day. There are three different restaurants, from the high end (middle) to a very simple snack bar (far end). We recommend the first one as you arrive from the beach entrance.
El Carmen, Cala d'Hort
One of our favourite lunch spots on the island. A typically Spanish and busy beachside restaurant with a stunning outlook over-looking the impressive and mystical island of Es Vedra (a 413m high pillar of rock rearing out of the ocean). This is a great place to eat paella and enjoy simple local fish cooked very well. Popular with locals and families but most definitely caters for all with a lovely swimming beach below. Book well in advance for weekend lunches. A tip; go for an early dinner and avoid the lunchtime crowds, a superbly tranquil meal.
Restaurante Cala d'Hort, Cala d'Hort
a similar quality to El Carmen which is only 50m away but in our opinion El Carmen gets the vote. Same seafood menu, great views and access to the beach. Definitely worth a lunch if El Carmen is full.
Es Boldado, Cala d'Hort
In terms of quality of the arroces y paellas this is perhaps the best of the three Cala d'Hort restaurants. It also has stunning views over the sea to Es Vedra but it doesn´t have easy access to the beach and is in fact a 5 to 10 minute drive inland to link with the main beach. It's a lovely spot but if a beach restaurant is what you are after then this is not for you.
Can Jaume, Cala Vadella
A large restaurant that goes straight onto the soft sand of the pretty beach at Cala Vadella. It´s a family friendly spot, particularly as the kids can play on the sand and swim in the safe protected waters of the bay all in eye sight of your table. Solidly good paella and seafood and overall a great lunch spot. One of our favourites.
Alma Beach, Port des Torrent
Port Des Torrent has been overshadowed by San Antonio's famous sunset strip for the last few years. But if you like to enjoy your sunsets with a relaxed family vibe and a sprinkling of chilled music & dining, then Alma Beach could be your new Sunset Spot. Add its Oyster and Champagne menu, to the beautiful views out to Illlots de Ponent and your Sunset Experience won't get any better. As the more energetic amongst us enjoy a Sunset SUP class or Sunrise Yoga session, feel free to order the sundowner of your choice whilst procrastinating about maybe joining them tomorrow.
Can Vicent / Restaurante Cala Carbo
The two restaurants in the pretty little bay of Cala Carbo are carbon copies in terms of the menu. Both offer typical Spanish seafood and are family friendly Spanish affairs. A great place for a relaxed low key meal. Restaurante Cala Carbo just gets the vote as it is closer to the water.
Can Vicent
Restaurante Cala Carbo