1. PLAYA D'EN BOSSA
As a major holiday resort, this fine-sanded beach is also the longest on the island. It's a beautiful beach although heavily developed. It has managed to largely shrug off the 'tacky' tag as the hotels and restaurants have dramatically improved over the last decade. It now attracts both an international hipster crowd, thanks to its active beach club scene, and a myriad of families thanks to being aligned with the strip of large hotels and apartment blocks. The waters are very safe and good for swimming. Try some lunch at the fashionable Beachouse (+34 971 396 858, www.beachouseibiza.com). The whole of Playa d'en Bossa is sandy, so soak yourself in the crystalline water and recline back on your sun-bed as you sip a cocktail or four. You may end up not even going home for a shower and a change but find yourself dancing straight into the beats of some of the world's best clubs – Ushuaia and Hi are just off the beach. Our tip is to head to the most southern end, toward the 'torre', where the beach remains beautiful and virgin with very little development. There are also some relaxed water sports here. Kayaking is our recommendation.
More restaurants:                                
Nassau Beach Club (+34 971 396 714, www.nassaubeachclub.com).   
2. ES CAVALLET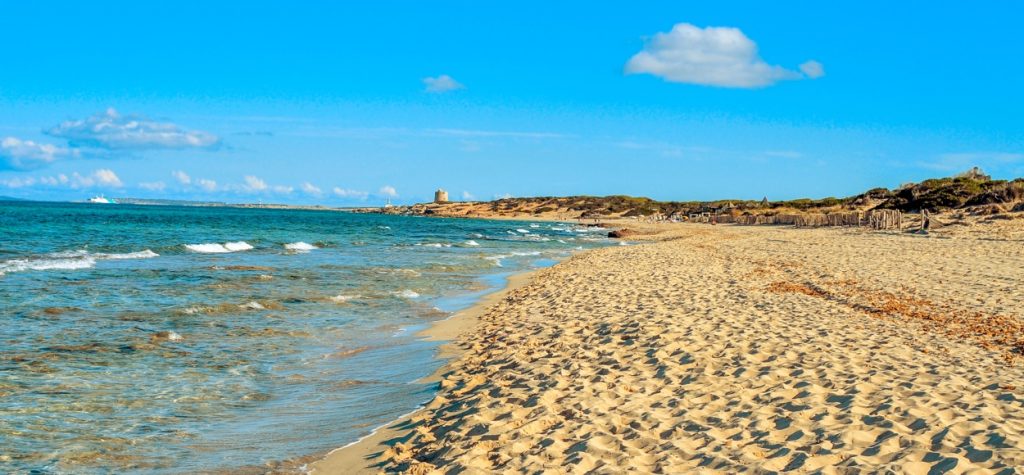 A scenic drive through Ses Salinas salt flats and you will arrive at the Es Cavallet, Ibiza's first official nudist beach. It remains a big draw for both an international jet set crowd at the North end and a largely gay and LGBT crowd at the South end.
Aside from a stylish party vibe emanating from its chiringuitos, the beach rests in the Ses Salines natural park and is totally virgin, wild and beautiful. With it's light-coloured sand, dense dunes, regular winds and often choppy waters, it is a great place for a hike or a windsurf. Parking is limited especially around lunchtime and dinnertime. The beach is great for sun-bathing but the waters are often a bit too rough for kids to swim. Walking south the beach becomes even more beautiful and the water calmer but there is a more 'open' atmosphere in the busy months at the south end at Chiringay beach club, which, if not your scene, you might well want to miss out on.
There are 2 great restaurants at the north end near the parking: El Chiringuito (+34 971 395 485, www.elchiringuitoibiza.com) and La Escollera (+34 971 396 572, www.laescolleraibiza.com).
3. LAS SALINAS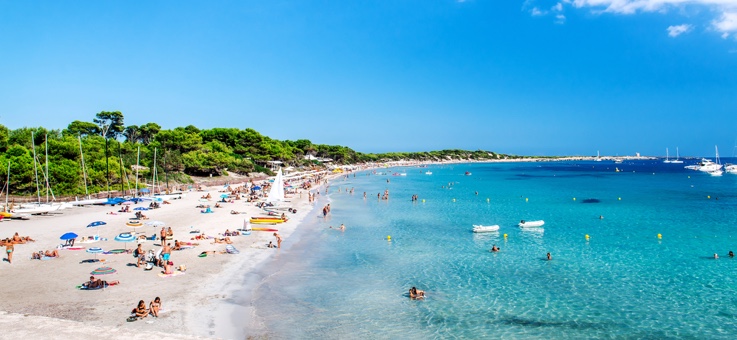 One of Ibiza's longest and most famous beaches, las Salinas is also one of the closest beaches to the airport in the event you want to go straight there. The beach runs along the Parc Natural Ses Salinas d'Eivissa, a nature reserve lined with pine forest and pristine white sand dunes. The clear waters and copious amounts of seaweed (regularly cleaned in summertime) make swimming at this beach like a kind of natural spa experience.
Several chiringuitos line the beach spinning glitzy tunes in the summer months. This beach attracts a diverse crowd, jet set, hippy, families, nudists, everyone is there at some point during the summer. Enjoy some of the best food for all the family at Jockey Club, one of the original Ibiza beach clubs and still delivering after 30 years (+34 971 395 788, www.jockeyclubibiza.com).
One of the most stunning parts of the beach can be found when you walk to the far left-hand side past the sandy bit and onto the rocky path. As you walk towards the watchtower (Torre de ses Portes) you will discover a series of mini coves, like private little beaches (quickly snatched and closely guarded as such by eager sunbathers). Interesting rock formations can be seen interspersed among the coastal stones, carved into unique forms such as a dragon wearing a Mayan-style headdress. This stretch is also home to many nudists in the busy summer months. The afternoons are busiest at this beach so the early risers are more likely to get a spot both in the various car parks and on the beach.
More Salinas beach clubs: 
Beso Beach – a stylish restaurant with a relaxed vibe right on the sand. Sister restaurant to the more famous original just across the water on Formentera's Playa Illetes. (+34 971349900, www.besobeach.com).                                       
Sa Trinxa – for average food, great music and the odd nudist (+34 618 960 500, www.satrinxa.com).                                                                                
Experimental Beach – for a sun-downer cocktail or delicious dinner with stunning sunset views on the drive back to the villa (+34 664 331 269, www.eccbeach.com).
4. SA CALETA
A very private, protected little oasis of calm waters this horse- shoe shaped beach is situated in between two large extended red clay cliffs and hosts a jetty full of fisherman's houses. Declared a world heritage site in 1999, it was the first Phoenician settlement on Ibiza in 700BC so you can be sure to get your culture for the day. 
Sa Caleta attracts locals and tourists alike. It is popular with families and snorkelers thanks to its tranquil and shallow waters. Keep in mind that this is a small cove with limited wind so during peak summer hours it can get very crowded and often very hot. This is perhaps not your best location for the whole day but it is blissful for a morning or evening swim.                                         
Restaurant recommendation:                                
Restaurante Sa Caleta – excellent seafood and open all year (+34 971 187 095, www.restaurantesacaleta.com). One of the locals favorites.     
5. CALA JONDAL
Attracting more of an exclusive crowd thanks to its well-known beach bars and restaurants. This crescent shaped bay provides for a most spectacular view and is a great sunset spot (although you only see the sun disappear into the water, as opposed to behind the hills, in mid winter). An extremely lively shore where there is always entertainment to be had either from the beach side or from the private yachts bobbing on anchor in the bay. large smooth rounded stones provide a dividing belt between the white sand of the beach clubs sun-beds and the clear water. Once you are in the water and out swimming it's truly lovely but getting there can be a bit tricky as the stones make an uncomfortable entrance. The beach clubs normally have simple wooden jetties to make access much easier but because of this and the more adult focused restaurants we don't rank Cala Jondal as particularly kid friendly. For a long lunch drifting into off-the-beach cocktails, music and fun, however it is a great spot.
The places to go:
Casa Jondal – The new entry to the bay in 2018 has taken over as the most popular with 2 month plus waiting lists in summer months, Could laid back luxury be better defined? Beautifully decorated, a very pretty setting, excellent and creative food, variable service, and always a reassuringly expensive bill – all the ingredients that are testament to eating in one of the best and most in-demand restaurants in the Mediterranean -(+34 971 802 766, www.casajondal.es). 
Yemanja – for the (second) best food on the beach (+34 971 187 481, www.yemanjaibiza.com).        
Tropicana Beach Club – the most relaxing and the most suitable for families (+34 971 802 640, www.tropicanaibiza.com).
The Blue Marlin – for the posy party set (+34 971 410 269, www.bluemarlinibiza.com).
6. PORROIG
If you are looking for unspoiled and tranquility then this small bay is a great option. The cove has countryside as a backdrop and rocky hilly terrain on either side. Intermingling with the thin shingle and gravel beach are the many fisherman's huts dotted all along the cove. Bring your snorkelling gear (as the beach doesn't have any gear available) and explore the bay. The total lack of amenities make it less appealing for a day with the kids but adds to its charm for adults looking for a peaceful place to relax with a view.   
For an authentic fresh fish experience head along the track that follows the coast west for 500m into Cala Xarcu and have a delicious lunch at Es Xarcu (+34 971 187 867, www.esxarcu.com).