17. PUERTO SAN MIGUEL
Once the main fishing port attached to the northern village of San Miguel, the port holds a sort of timeless element to it even though it now feels a lot more like a resort. Tourist shops line the road towards the beach and hotels built in the 1960's provide a backdrop.
The even sandy stretch of sand and shallow transparent waters make it an ideal beach for families who come locally and internationally to enjoy themselves and the various watersports on offer (Our recommendation is kayaking).
The port is a busy place in summer during most of the day as people can be seen taking advantage of the range of convenient restaurants. Traditional Mediterranean fish dishes for lunch are a must at Port Balansat: www.restauranteportbalansat.com, +34 971 33 45 27.
Early mornings can be a completely different experience if you make it down early enough when the bay is clear as a pool and schools of fish can be seen swimming past.
If you are feeling like a little walk head towards the far left end of the beach and up the hill onto the dirt track. You will behold magnificent blue as you curve around and descend onto a very small pebbly cove called Calo des Moltons. A rustic chiringuito (Utopia Beach Bar, +34 687 25 34 91) and amazing snorkeling await you. The menu is simple and the fresh fish and sardines delicious. For a little more adventure keep going up into the forest and onwards to the old pirate tower.
18. BENIRRAS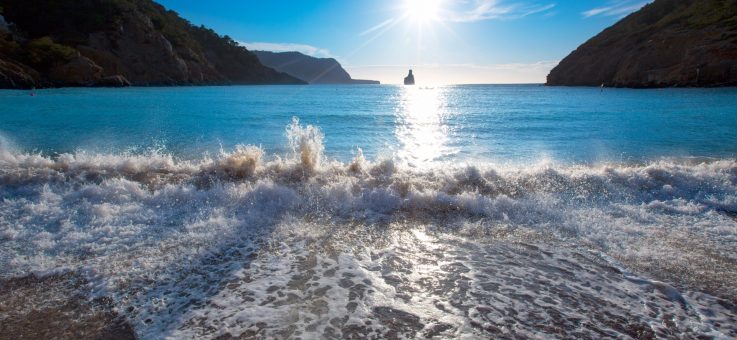 Quintessential northern beach made up of grainy, rocky type sand. The bay is surrounded by pine trees and carved out by rocks on either side (often used as an extension of the beach by the more nude variety). Looking out from the beach is Cap Bernat, an interesting looking rock jutting straight out of the sea, adding a filmic quality during the beaches' famous sunsets as well as providing a daring jump off point for the more adventurous in nature.
This beach maintains its popular appeal with locals, hippies, hippie chics, and tourists. Every Sunday the beach hosts a boisterous drumming circle that, during the peak months, packs the entire beach with listeners. Also popular on the weekends is the small market where there is an eclectic collection of all things hippie. Make sure you factor in breakfast or lunch at Elements: www.elements-ibiza.com, +34 971 33 31 36, a must for the full Benirras experience.
TIP : there is a very small parking lot near the beach that is almost always full. The restaurants have limited parking space as do the paid parking lots- (3 euros fee). It is therefore recommended, especially on Sundays, to come early or to wear your walking shoes as people do end up parking very far up the road from the beach.
19. CALA XUCLAR
A small crescent shaped bay flanked by cliffs on either side and rich pine wood forest providing for a serene retreat away from the madding crowd.
Attracting the North's international crowd as well as those holidaymakers in the know, this quaint little bay lined with fisherman's huts is a lush place to snorkel. If you're not in the mood to swim try sunbathing on the rocks or take a walk along the cliff paths. The rocks do not make for an easy sea access however, so if you are after sand or with young kids then this is not your beach.
There is not much in the way of amenities at this cove so come prepared. There is a very small beach restaurant/bar serving a limited but good quality menu. Reserving ahead essential www.calaxuclar.com, +34 679 670 559.
20. PORTINATX
Winding through the vast pine forest, you will arrive at what was once a small fishing village, Portinatx. Ibiza's northern-most beaches, Playa Porto, S'Arenal Gros and S'Arenal Petit provide a mix of rocky inlets, fine sand, shallow waters and relaxed chiringuitos making them a real paradise for families from the world over. Portinatx bay is, naturally, one of the most beautiful on the island but it has been developed pretty heavily with numerous hotels and therefore feels touristy. It takes the edge off but doesn't ruin it. Amenities abound with a myriad of establishments catering to beach-goers and there are all types of watersports on offer from kayaking to diving. If you feel like exploring the area take a coastal trail over to the Punta Moscarter lighthouse where you can take advantage of the fantastic views. For the more adventurous there is a 10km cliff walk to Punta de Xarraca, obviously without the kids!
Decent restaurants are scarce in this area, but the hippy chic Hotel Los Enamorados stands out www.losenamoradosibiza.com +34 971 333 474.
Another good option is to enjoy a cocktail and some dinner on your way home at the Giri Café in the beautiful little village of San Juan, https://cafe.thegiri.com, +34 971 333 474.
21. CALA SAN VICENTE
Sitting near the island's north east tip is the sandy crescent shaped bay of Cala San Vicente. It's one of Ibiza's most beautiful beaches but often not visited as it is also one of the remotest. Perhaps not surprisingly a couple of large hotels and apartment blocks have been built here but these only slightly detract. It's a very pretty cala, best observed high on the coast road as you arrive from the direction of San Carlos. There are very good facilities and some fairly decent local restaurants along the board walk . Our pick and the local's favorite is Es Calo tel + 34 618 510 757 for a very good paella or fresh fish.
Tip – the swimming and snorkelling is best at the side of the bay near the rocks. If there are no waves there are some lovely spots to investigate.
22. AGUAS BLANCAS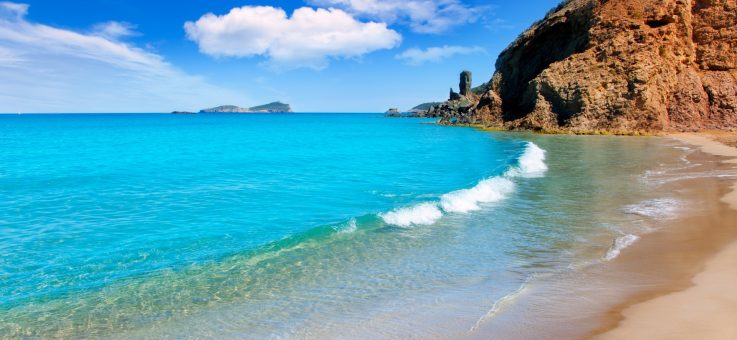 One of the few beaches in Ibiza that has waves, its name literally means "white water". This makes reference to the variable white foam on the sea caused by the beaches windy exposure. A relatively long beach, it has a kind of raw beauty about it with its jagged cliffs and fine grainy sand of darkened hue.
This beach is an official nudist spot. Having said that don't be put off as it is a mish mash of the clothed and unclothed, attracting both locals as well as the visiting couples and families. There is a local chiringuito where you can refresh and snack on a choripan (bread with chorizo sausage) while listening to non-stop oldies, +34 971 330 807.
If you wander towards the Southern end of the beach there is a satellite beach accessed by a short swim. The water is pretty shallow in most areas so you may want to take your snorkel and explore the wealth of rocky treasures in your way.
There are two main ways to access the beach, both require some effort and are not easy access. The first is to park at the car park on top of the hill where you incur a small fee and walk down (it's a pretty steep walk down and then up so keep this in mind when planning what to bring with you from the car, younger children etc). The other is to turn right at the signs for Aigues Blanques and park along that road. Towards the middle left hand side there will be some arches where you can walk down another steep-ish road leading you to the beach.
23. ES FIGUERAL
Majestic cliffs flank both ends of the beach, soft white sand, clear blue translucent waters and an unobstructed view (aside from Tagomago, a privately owned island) provide for an ideal environment in which to relax.
The beach is divided into three segments. The left hand side of the beach often being the less crowded. Make sure you find a spot closer to the seafront and away from the large cliffs (as there is a sign that indicates the danger of falling rocks). You will find this does not deter the locals as the rocks provide amazing shade during the summer. The far left end is also an "in" spot for nudists.
The middle section is the best for kids and easiest to access as it even has a wooden slatted path leading down to the water. It is also the most crowded and resort feeling since it sits in front of Las Dalias restaurant: www.lasdalias.es/chiringuito, +34 971 326 825.
If you want to sip a cocktail and lunch while the kids are busy in the water this is your section!
On the far right hand segment the beach hosts an array of watersports; stand up paddle, kayaking, diving and snorkeling. The still, shallow water and rocky coves really make it a perfect place for beginner snorkelers and stand up paddlers.