24. CALA MASTELLA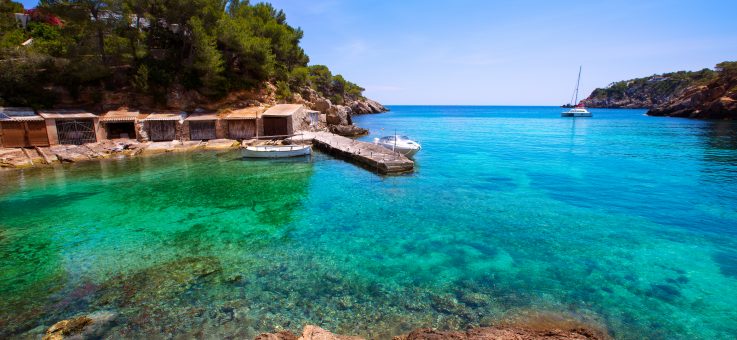 A picturesque small beach and quaint fishing port greets you upon arrival at this rocky outpost. Reed beds framing the beach create a peaceful dreamy vibe. Interesting looking rock formations are seen jutting out of the shallow waters, lush marine life and plants weaving themselves around the rocks making for a fascinating snorkeling session.
Protected from the wind and waves and with little amenities Cala Mastella is a great place to escape the crowds and connect with the more rustic side of Ibiza. Mostly locals and a few jet setters will be seen on the beach relishing the authentic fish experience at 'El Bigotes' (+34 650 797 633), a very local chiringuito whose owner still goes out to catch the fish of the day for his clients. It may be challenging to reserve a table in season and it is not uncommon for people to book in person a week in advance. The parking, like the restaurant and the beach, is also on the small side so look to arrive earlier rather than later.
25. CALA LLENYA
Known for its watersports and easy relaxed vibe this large curve of a beach has fine light colored sand and is surrounded by an abundant pine forest. You can enjoy the sandy shallow waters which gives this beach a top mark with kids.
Good facilities, good parking, and a practical little chiringuito right on the beach. There is lots of shade for all day picnics and general comfort attracting mainly families both local and visiting alike. If you´re into some action and don't feel like windsurfing then throw yourself into a game of volleyball on the shore where there is a permanent net set up.
The best option for lunch serving up a pretty good paella is Restaurante Cala Llenya (+34 971 335 223, www.calallenya.net).
26. CALA NOVA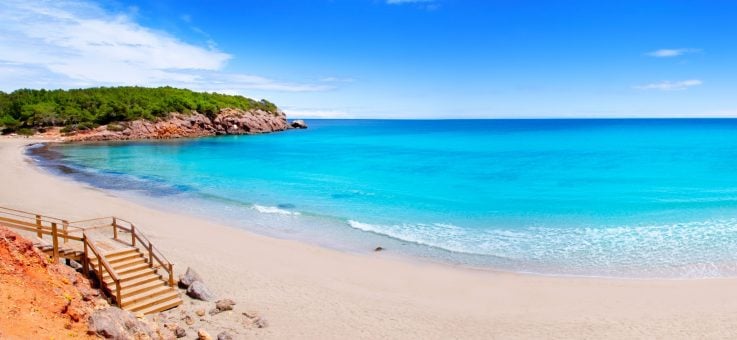 A turquoise paradise with its long wide curve of fine sand, this beach is wide open to wind and, quite often, waves. Shallow waters that reach far into the bay and long extended waves make the water perfect for bodysurfing or boogie boarding. Sometimes even good enough for some actual surfing, although if you are a serious surfer you may be waiting forever for the ultimate wave!
Since this is a popular beach for families be mindful of the strong undercurrents' as there can be quite a pull when wavy
The nature is rustic, raw, rugged with pine-clad hills towards the left end. Follow one of the many paths into the forest for a leisurely walk. If you want to stick to the water and you don't surf, paddle boards are available for your pleasure.
Regal in seafood paella at Atzaro's beach restaurant (+34 607 263 491, www.atzaro.com). Or for organic Mediterranean cuisine Aiyanna Beach Club (+34 971 330 456, www.aiyannaibiza.com).
27. CALA MARTINA
A windsurfing paradise, this beach almost always has an optimal wind (the Levant) blowing on its shores. A darker sanded beach framed by a more rural flat landscape it is known for its watersports and relaxed vibe. If you don't windsurf you may want to try your hand at sailing, stand-up paddling, kite-surfing, kayaking, you name it they will have it available. The beach attracts a mix of people and lots of families who take advantage of the courses both for adults and children. There is also a dive school that takes its guests out to the islands of Illa Redon and Illa de Santa Eularia to explore the underwater caves.
If you want to experience Ibiza's hippy vibe make sure you go to the nearby Mercadillo de Es Canar at Punta Arabi that hosts the big hippy market. There is a real crossover to the beach on these days. Not a beach that will win awards for its food but we recommend a paella lunch at Restaurante Martina (+34 971 338 745).
28. CALA PADA
Perhaps one of the less known beaches on the Eastern coast of Ibiza, it is no less worth the visit. A broad, sizeable beach of fine sand with rocky coastline, translucent shallow waters and aromatic pines lining the background. Easy access, ample parking facilities and a line of local chiringuitos providing shade and snacks along the shore make it a well-liked laid back beach for families. On the beach is the Restaurante Brisa de la Mar, where you can enjoy some traditional cuisine (+34 971 330 826, www.brisadelamar.com).
When the south wind blows windsurfers can be seen zipping back and forth across the bay. One of the visual highlights in the water is a wooden pathway jutting straight out in the water providing both a dock for boats and fishing or a popular jump off point for kids. You can also enjoy a gentle walk on the coastline path or take one of the numerous ferries shuttling back and forth to Santa Eulalia.
29. CALA LLONGA
The deepest bay on the island, you would have to pass through a striking, long channel, flanked by cliffs on either side if you were leaving the beach and going out to sea. It is a beautiful spot but unfortunately the village has been developed fairly extensively and this takes the edge off it for us, although this white arc of sand is a great all around beach for just about everything. Easy access to beach, resort style vibe and a diverse range of amenities make it a very popular pick for families both local and international.
A blue flag beach, shallow waters and lifeguards ensure safety at all times and a range of water sports are at your fingertips from banana boating to scuba diving where you can explore the nearby caves and reefs.
A good place to bring a picnic as there are tables and benches conveniently located towards the top end of the beach and even a playground with wooden rides for the kids. The food in the restaurants are fairly standard so if you feel like a little more glam for your lunch, head over to the lovely Amante situated on Sol den Serra bay, only a 2 minute drive away (+34 971 196 176, www.amanteibiza.com), or aim for the excellent Casa Piedra for dinner (+34 971 196 558, www.casapiedraibiza.com), which is found on the road out of the town.
30. CALA OLIVERA
Private, tiny and rarely crowded, this beach is located in the exclusive urbanisation of Roca Lisa. It's a calm, small, sandy, gravelly bay surrounded by forest and rock. The water is wonderfully clear and there are a fair few rocks to weave through towards the open sea. Your gaze will rest on the two little islands not far off named pont Foradat thanks to their bridge-like appearance. Should your eyes wander to the right you might catch sight of nudists basking in the sun higher up on the stack of rocks. This beach mainly attracts couples and singles.
Pretty much the only amenity you will find here is a very small chiringuito, if you can even call it that, as it is more of a pop up installation with a few plastic chairs and a small hut. Nonetheless on a good day you might be lucky and enjoy some of their grilled fish.
As much as the beach is easily accessible given its location its probably best to park near the top end of the drive down as the parking lot is even smaller than the beach and almost inevitably full.
Despite Cala Oilvera being a pretty little bay, it probably doesn't warrant a whole day there. If you fancy fitting in a bit more, the golf course is only a three-minute drive away!
31. TALAMANCA
The closest beach to Ibiza town, lined with a wide variety of restaurants and bars on its palm tree lined boardwalk, is a popular choice. The beach has always had a relaxed vibe but now has a jet set twist due to the opening of some smart establishments. Start off with an early morning jog towards the left-hand side of the bay, fresh juice at one of the many cafes on the wooden walkway, followed by some retail therapy in the nearby Marina Botafoch. Then back to the beach for some late lunch at Nobu Hotel's chiringuito, Chambao (+34 971 19 2222, www.nobuhotelibizabay.com), or the ever popular Sa Punta on the north side of the bay (+34 971 193 424, www.sapuntaibiza.com).
A great beach for kids due to its abundant soft white sand and shallow waters making it an easily accessible and practical option. Relax on one of the many sun beds or get a massage while the little ones paddle about in safety at the water's edge.