Beaches – West
7. CALA D'HORT
A fairy-tale cove enchanting visitors with its raw natural beauty and postcard like views of Es Vedra, a 413 metre high limestone rock island renown the world over for its magnetic energetic pull. The sandy and pebbly bay of Cala d'hort is very pretty but it is impossible not be regularly lured into staring at Es Vedra in all its might. Whilst the magnetism of Es Vedra is perhaps urban myth, there is no doubting it's importance in Greek mythology. The island is said to be home to sirens and sea-nymphs, who tried to lure Odysseus from his ship in Homer's Odyssey
Declared a National Park in the 1990's to preserve it from construction this fine white-sanded, shallow clear watered beach is popular with families and young couples, local and international. Cala D'hort is famous for its sunsets that can best be viewed from the left hand section of the beach or from the restaurant El Carmen: www.elcarmencaladhort.com, +34 971 187 449. Enjoy the view while you relish an Ibicencan seafood special Bullit de Peix.
Be sure to arrive early at this beach as there is limited parking near the beach and it's a long walk up the hill to the higher cliff top parking at the end of the day
More eateries:
Restaurante Cala d'hort – +34 971 935 036,
Es Boldado – www.restauranteboldado.net +34 626 494 537.
8. CALA CARBO
A small sheltered cove in a Natural Reserve protected from the elements by its rocky formation and mountainous background. The beach is made up of grainy sand and small pebbles and the clear translucent waters greet you into the gradually descending shore.
Very popular with families, locals and foreign alike who take advantage of the relaxed vibe. Hang in a hammock or enjoy a massage on the beach. Try your hand at fishing from the little jetty off the rocks, kids included (often seen with their little nets in and out of the rocks).
As the sun sets it is concealed from the beach so it is customary to see people swimming out a little from the shore to enjoy the views. Make sure to book a table in advance in one of the two locally owned beach restaurants, both offering very good seafood, without breaking the bank.
Restaurante Cala Carbo +34 971 808 251
Can Vicent +34 971 808 155.
9. CALA VADELLA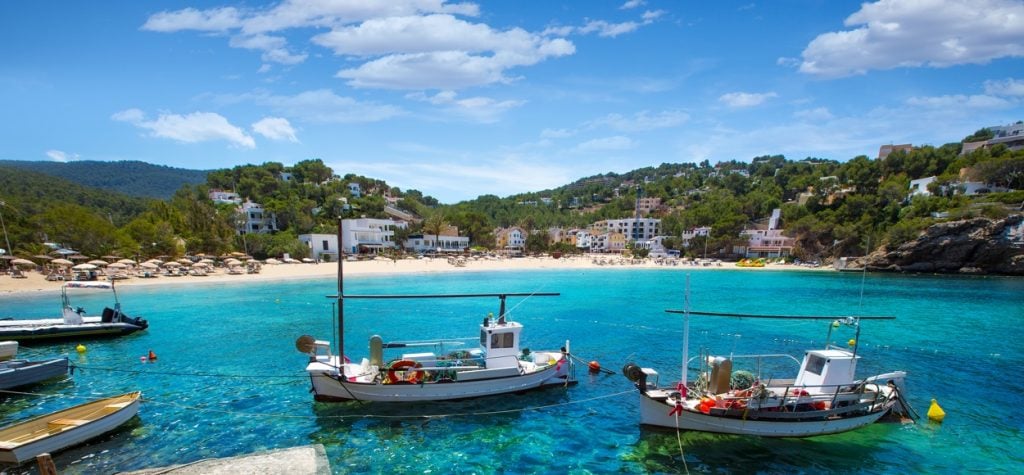 Curvy roads, pine-clad cliffs and stunning views of blue sea and speckled white yachts will accompany you on your drive down to Cala Vadella, a charming little resort town.
The sandy beach is a reasonable size and the shallow crystalline waters make it a popular choice for families all year round. The decent selection of restaurants looking out to the beach means the kids can play and you can keep an eye from your restaurant chair. For some wonderful fresh fish or paella right on the beach head to Can Jaume www.canjaume.com +34 971 808 488
If you are feeling active, choose from a variety of watersports readily available ranging from water skiing to snorkeling and even scuba diving.
10. CALA MOLI
A small tranquil beach backed by Ibiza's quintessential pine trees and cliffs. The bay has pebbly grainy sand both in and out of the water so it may be a good idea to bring along your aqua shoes. It's easy to drive by and miss Cala Moli but it's worth the stop; this little paradise of calm is a great place for deep relaxation. If you are feeling more active snorkeling is your activity at this bay where the fish are plentiful and there is an interesting variety of underwater fauna. From the bay you can see the protected and very grassy island of Espartar. There are fewer parasols and amenities but should you so desire a little more the beach has its own chic newly opened beach club with swimming pool. Bagatelle Beach (previously Restaurante Cala Moli) www.bistrotbagatelle.com, +34 971 806 993
11. CALA TARIDA
Spectacular sunsets and a vast array of watersports on offer, this beach ticks the boxes for pretty much everything you might need on a beach holiday. One of Ibiza's longest and widest white sanded beaches, there is ample space for all the buzzing activities both in and out of the water. The beach is flanked by a few low level apartment blocks and hotels but this doesn't overly spoil the beach.
One of the highlights of the beach are the flat rocks emerging like small platforms only meters away from the shoreline. The water depth being relatively shallow it is common to see people swimming and snorkeling out towards the rocks, discovering the rich ocean fauna or simply sunbathing on top of them.
If you walk towards the left-hand side of the beach you will find a path that leads you upwards to a spot where you can best appreciate the sun setting into the bay.
Explore oriental fused with Mediterranean flavors at the excellent Cotton Beach Club and it's sister rooftop sushi restaurant Fay: www.cottonbeachclub.com, +34 971 806 180.
12. CALA CONTE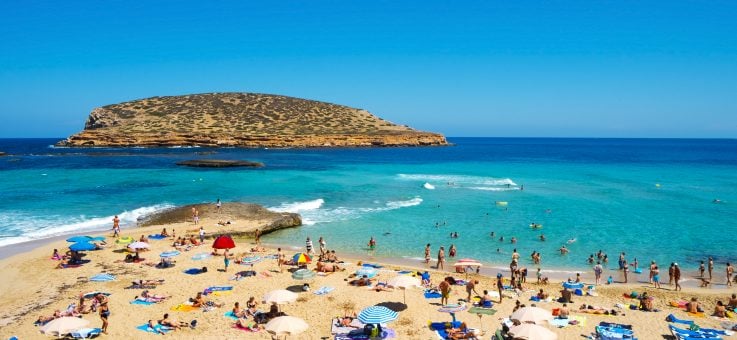 The best sunset beach on the island. Watching the sun melt into the sea here is guaranteed to deliver a truly melancholic moment. As you pull into your most photographically perfect parking spot, you know that you have arrived in paradise. Your first glimpse from the large cliff side parking area will be of the large beached whale-like and uninhabited island of Sa Conillera. The water in Cala Conte is Formentera-esque as the abundant sand creates an aquamarine bliss
The beach is divided into three differing sections, two are supported by more rocky background and the last has pristinely white sand dunes. Take your pick whether you veer right or left. To the West you will find families enjoying the ideally shallow, pool-like cove safe for younger kids. To the East you are more likely to spend time with the nudists (who have informally claimed this section as their own).
You will find small coves of varying depths creating for an ideal snorkeling environment. It's a stunning spot but if you swim out far into the open sea, bear in mind that the currents can pick up a bit especially towards the late afternoon.
The sunset is best enjoyed with a cocktail in your hand at Sunset Ashram: www.sunsetashram.com, + 34 661 347 222. Which also serves up decent Med/Asian fusion food. If this is full walk 100m to the North to Restaurante Ses Roques www.restaurantesesroques.com +34 806 050 which offers good local sea food and is sat in an equally stunning spot.
13. CALA BASSA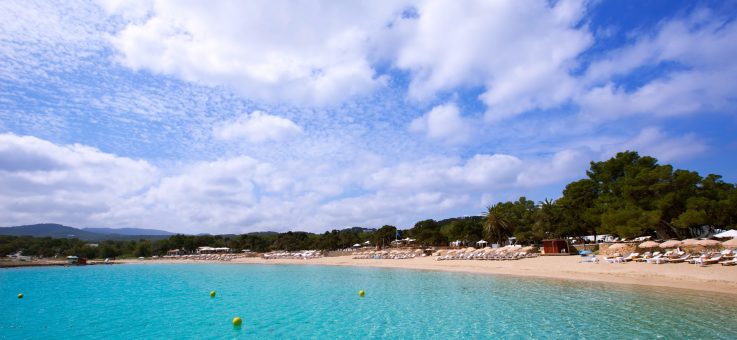 A beach for all, this busy beach brags some of the cleanest and clearest swimming water on the island and is a perfect place to enjoy a long beach day. Surrounded by Ibiza's native Sabina trees and sporting two large rock formations on either end of the beach this golden stretch of sand is extremely popular with families and locals alike. Cala Bassa has good shade and facilities galore making it an ideal family experience.
If you are in a more energetic mood try your legs at jet skiing or jumping off the rocks on either ends of the beach. Feeling slower, go to the right and sit on the rocks with the locals fishing.
TIP – Parking is good but be warned, the beach gets very busy in July and August. So, we recommend going in early or late summer.
Eat or have a drink at the Cala Bassa Beach Club: www.cbbcibiza.com, +34 902 300 444.
14. CALA GRACIO
This sheltered cove with its crystal clear sea waters provides for a chilled out vibe whilst only a 15-minute walk from San Antonio town. Easily accessible, Cala Gracio is a popular pick for families and locals from town.
The actual beach is lovely but not so long and fills up fast in the summer so be sure to get there early. It is also a great cove where you can snorkel as there is a perfect balance of shallow rocks and deeper water.
If you feel like the crowd is getting to you either take your snorkel and swim around the rocks, or walk around the fisherman huts, to Cala Gracio's little sister cove, Cala Gracioneta.
15. CALA GRACIONETA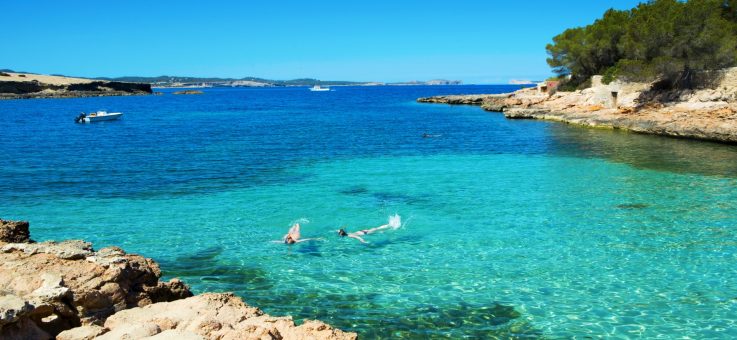 A smaller and more secluded version of its neighbour Cala Gracio, this sandy bay is a tiny slice of heaven. It's a picturesque little cove, with pine trees providing shade, clear pool like water. Great swimming and snorkeling.
Very popular with families who take advantage of the shallow waters as well as with a younger crowd who like to soak up the idyllic atmosphere from the vibrant little beach restaurant at the top end of the beach (the food is only average but it's a great spot)
El Chiringuito:
www.grupomambo.com/venues/bar.restaurants/el-chiringuito.html, +34 971 348 338.
Earlier arrival is also recommended at Cala Gracioneta as it does fill up especially in the afternoons as sunset time approaches and people start to fill the chiringuito.
16. CALA SALADA & SALADITA
Raw nature at its best, this beach is a welcome escape from San Antonio's busy buzz. It boasts a background of pine trees, white sandy bay and noticeably clean turquoise water.
The left side of the bay hosts an extended line of little huts that you can access for optimal sunbathing and a bit more privacy from the sandy shores. To the right there are a series of rocks that are very popular with boys who want to show their metal by leaping into the sea. Before you dive freestyle check the water depth as it varies depending on the area.
If you follow the tricky path on top of the cliffs for 100m you will enjoy stunning views and eventually reach Cala Salada's little sister, Cala Saladita, is a slice of sandy heaven which can only be reached by foot or boat. The swimming here is exceptional.
A mix of locals and tourists are attracted to this beach and it can definitely get crowded during the summer months, especially at lunchtime. The paella at Restaurante Cala Salada is fairly decent +34 971 342 867.