Balansat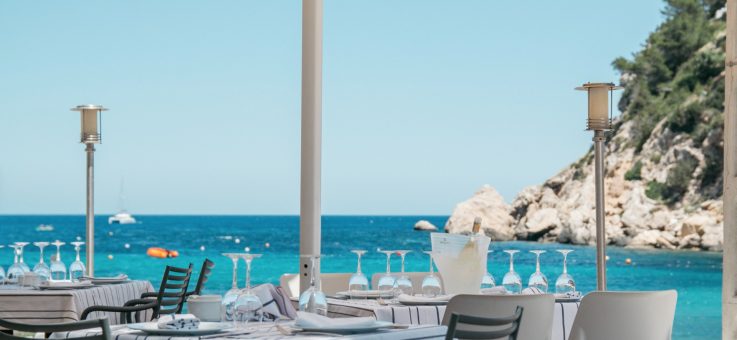 Puerto de San Miguel. A traditional and classic fish and paella restaurant right up on the north coast. It´s widely seen as one of the best paellas on the island. Very popular with the locals and right on the sand so great for families.
Elements
Cala Benirras. Benirras is a pretty cove on the island's rocky north shore. Elements is the best restaurant there and occupies pride of place on the edge of the bay. The restaurant offers very tasty Mediterranean cuisine with a modern delivery. 
The beach is best known for the Sunday late afternoon ritual of the beating of the drums where bongos are played deep into the evening in a tribal gathering of modern day hippies. It's quite a spectacle and is an intoxicating way to end the day. However, you will probably be sobered up rapidly when you try and drive away and get stuck in an 1 hour queue, so a clever car parking strategy is essential on a Sunday. Our recommendation is either to walk the last 1km for an easy exit, or just stay until everyone has gone…very late!
Bar Anita
San Carlos. Experience the history of Ibiza in the oldest bar on the island. As soon as you enter you find yourselves surrounded by old wooden mailboxes and you can really feel the atmosphere of the 70s here, and way back beyond then. Great for a drink and a coffee, but also there is a restaurant hidden in the back that serves up tasty and well priced traditional food.
Can Gat
Cala San Vicente. Toward the middle of the beach you will find this Mediterranean eatery. It is a classic Ibicencan sea food affair with the local speciality Bulet de peix, various arroces and fresh fish on offer. This is the most popular classic Spanish restaurant in the bay, make sure to book in advance.
Boat House
Cala San Vicente. ¨A place you'll simply never want to leave.¨  Nautically themed, this is one of the most original restaurants on east of the island and the perfect location for great friends, fabulous food and an unforgettable dining experience. Seaside located, in the middle of the golden sands of the Cala Vicente bay. Details like black truffle alioli and fresh fish from the local fishermen makes all the difference. Slightly oriented to tourists, the Boat House is actually a pretty nice experience. Great for families with children, this spot is definitely worth checking out.