El Chiringuito, Es Cavallet beach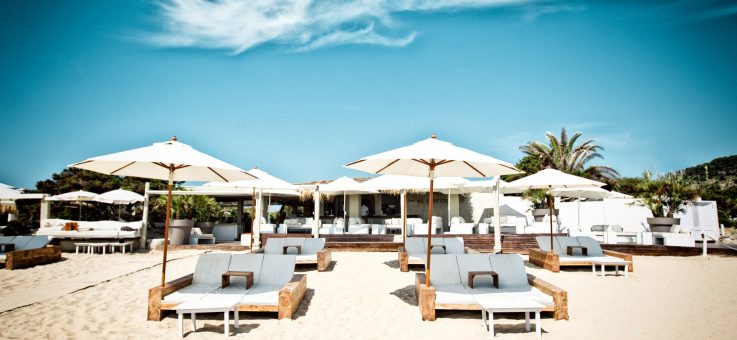 Head to Salinas beach but take a left 600m before and this thin road on the salt fields takes you to the lovely Es Cavallet Beach. El Chiringuito was created by the Anglo/French partnership of Jonathan Thorogood and Olivia Fleury, and they have built up a fantastic beach club that caters to all and is family friendly (crèche and kids menu). It is stylish but relaxed. If the seared tuna is on the menu try it, it's fantastic. A great place to spend the afternoon and it is now open for delicious dinners too. You could continue walking down the beach for 600m until you get to El Chirin'gay' which offers a very different scene!
La Escollera, Es Cavallet beach
This is the neighbouring restaurant to El Chiringuito and occupies an even more impressive spot with stunning southerly views down the coast with a line of 'torres' visible until Formentera. The restaurant is not so well connected to the beach as it´s neighbour so it is perhaps not so well known amongst tourists, but it is only a 30m walk to get to the sand! The food is excellent. Good for dinner too. Open all year so popular with locals and you will need to book even in mid winter. We love this place!
Salinas beach was the trendiest beach in Ibiza over the last generation until the new breed of beach club sprang up over the island. Salinas is still very beautiful and still very popular and has four beach clubs to prove it:
Beso Beach, Salinas Beach
In 2018 Beso Beach Ibiza opened its doors on Salinas beach. Charming restaurant with a laidback atmosphere, nice music and probably situated on the best spot of the Salinas bay. Great access to the beach and amazing views during daytime and sunset. They serve good but fairly high priced Mediterranean food. If you want to get hold of a sunbed, go early.
Jockey Club, Salinas Beach
Dating back from the early 1990's the Jockey Club became one of the cool spots for the Spanish jet set crowd. Glitzy tunes and good cocktails are part and parcel of the experience as you lie back on your lounge chair and enjoy the view. Now hosting a much more international and still a great experience, but service can be slow when busy.
Sa Trinxa, Salinas Beach
Sa Trinxa is a memorable place for a very relaxed lunch if you're in the chilled out party mood. Jon Sa Trinxa, the renown DJ, plays his delightful tunes at plate vibrating volumes whilst nudists lie back and get brown all over. Possibly a bit too laid back for the kids! Sa Trinxa.
Nassau Beach Club, Playa D'en Bossa
The much-maligned Playa D'en Bossa has had a major makeover over the last 10 years, particularly at the south end which boasts lovely sand and safe swimming. A few good beach clubs have sprung up, from the posey partying Ushuaïa Hotel to the mega brand of the Hard Rock Hotel (their beach club is called The Beach Club). Nassau is perhaps the best and most sophisticated of the lot but is still relaxed and works well. It´s family friendly too. Particularly popular with Germans due to the owner's family roots.
Tanit Beach Club, Playa D'en Bossa
This is Nassau's sister restaurant just 100m further along the beach. It's a smart but slightly lower key restaurant with a bit more focus on the dining and less on the off the beach party. It offers a decent Mediterranean menu with some interesting fusions. Open all winter so popular with locals.
Tatel, Hard Rock Hotel
Playa D'en Bossa. Madrid, Miami and now Ibiza. One of the island's hottest openings in 2017. Created by Abel Matutes Prats and Manuel Campos Guallar, owners of private investment firm Mabel Capital Group. They have joined forces with Spanish icons Rafael Nadal, Enrique Iglesias and two-time NBA champion Paul Gasol. Their aim is to make Tatel a Spanish restaurant brand that will be recognized worldwide and with that list of mega stars leading your PR they might well get there. The focus is on Spain's rich culinary culture and lively dining ambience. Of course it's Ibiza so entertainment and music play their parts too. At going to press we haven't yet eaten at Tatel so we cant judge if they deliver on their ambition, but it certainly adds another touch of glamour to Playa D'en Bossa strip
The Beach House, Playa D'en Bossa
The Beach House opened in 2013 and is now a popular haunt on the soft sands of Playa d´en Bossa. Great food, excellent service, and a great party. You can book a sun bed and relax for the day but The Beach House is a fun place and best enjoyed if a long lunch blends into off the beach cocktails….and then a few more. It may be a victim of it's own success though. The Sunday evening parties got so popular that the local authorities have been closely observing things. Hopefully the party continues this summer.
Minami, Ushuaïa Beach Club
Watch your selection of Japanese specialties being cooked right in front of you on Minami's Teppanyaki tables. If you feel like you may want a more mellow experience head out to the zen garden and have some sushi. A somewhat overpriced place for what is not always amazing service but a good place to come with friends before a big night out as it is already located in Ushuaïa's hotel so you can eat and walk out to the clubs having already parked.
Sublimotion, Playa de Bossa (Hard Rock Hotel)
When a restaurant positions itself as the world's most expensive you have to be excited, albeit slightly scared about what lies ahead. Paco Roncero, the double Michelin-starred chef, opened Sublimotion in 2014. It's meant to be an incredible multi sensory eating experience, quite simply unique, but we wouldn't know because we can't afford to eat here; it's €1500 a head. Perhaps many of our guests will think likewise. So, we'll stop the review right here. However, if you are looking for a place to blow your billion dollar bonus then please let us know if you enjoyed yourself.
Experimental Beach, Cap D'es Falco (Salinas).
Owned by three young French men, this is a fantastic sunset spot with lovely views along the island's south coast across the wide bay of Es Codolar. There is a good Mediterranean fish and meat menu (delicious steaks). The beach club itself is more limited as getting access to the beautiful turquoise waters can be very difficult over the rocks; it depends if the walkway is there or not (it regularly gets removed by the local authorities or the waves). We recommend you spend the day at Salinas or Es Cavallet beaches and then head to Experimental on your way home, either for a cocktail or for an early dinner. It will be well worth the five-minute bumpy track through the Salinas salt flats.
Bar San Francisco
Argentinean owned restaurant on your way to Salinas in the tiny village of Sant Francesc. Get ready for some amazing meats on the grill straight from Argentina and savoury fresh homemade raviolis. Also a good place for a snack as they have tasty burgers and quesadillas and the prices are definitely some of the most reasonable on the island. View is not great as it borders the main road but the place has enough buzz in order not to fixate on this.