Jul´s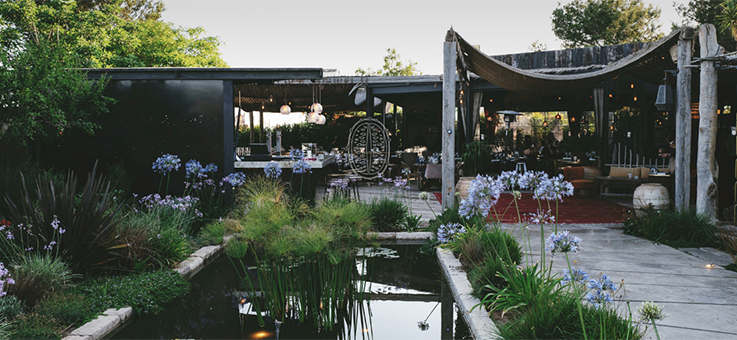 As you take your first steps into Jul's the first thing you will notice is the breathtaking decor, it's soft amber ambient lighting offsets chic suede and earthy textures to create the perfect setting for its eclectic and magical food. The cuisine is a journey from Spain to Greece, something easier to do on a plate than in the air at the moment it would seem. The menu centres around organic, locally sourced products and every dish is about the love of food and great ingredients. Don't miss the open fire Charcoal Grilled Meats and the celebrated Lobster and Butternut Squash Risotto. Start your evening with the intriguingly named "Dance of the Bad Angels" cocktail, a heady mix of Tequila, Mezcal, Cucumber and Chilli, (we can't take any responsibility for any Bad Angel dancing that may follow) and finish your evening with the perfectly named desert, Emotion Chocolate.
Es Torrent, Es Torrent beach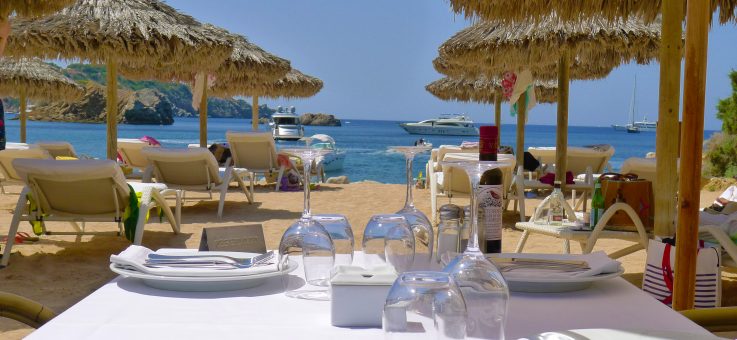 Set in a very pretty little bay in total privacy, this is a stylish, convivial and delicious seafood restaurant. A well heeled but relaxed bunch dine here. Many say this is the best seafood on the island. There is sand under your feet when you eat and lovely water for swimming and snorkelling. It is pebbly at the waters edge so walk carefully getting in, particularly after a glass or Rosada or two! Highly recommended for a special lunch.
Es Xarcu, Cala Jondal bay
In the main bay of Cala Jondal there is a side cove called Es Xarcu which hosts a lovely fish restaurant with the same name. A touch more laid back than it's Es Torrent neighbour but also serving up delicious fresh seafood. As you twist down the steep dusty track to get the restaurant you feel you have discovered a hidden gem. The setting is lovely and private but the swimming and beach are not as good as the food.
Tropicana Beach Club, Cala Jondal
Family friendly with good sea food and particularly great salads. There is a calm atmosphere and of all the Cala Jondal restaurants this is the best spot to spend a relaxed day and be looked after. It's also the best spot on the beach for swimming for families as there is a bit more sand at this end of the bay – that said it can still be a bit stony when getting in.
The Blue Marlin, Cala Jondal
One of the most famous beach clubs in the world. Infamous, posy, flirty and, dare it be said, a lot of fun. Go dressed to impress although the less the better. The food is excellent, but if you prefer not to dine, put on your sunglasses, sip a cocktail and have fun partying or people watching. You can spend the day lying out on the giant round sunbeds (reservation essential) but the fun kicks off from about 18.00. Booking a table at 4pm for a long late lunch is our recommended tactic. Not really kid friendly particularly in mid-summer and the swimming, whilst fine for adults, is not good for small kids due to the large stones, despite the wooden jetty.
Yemanja, Cala Jondal
The best food of the Cala Jondal restaurants and right up there with Es Xarcu and Es Torrent in the fight for the best seafood in Ibiza. A lovely spot and right next to The Blue Marlin so you can have a long lunch and wander over to the noisy neighbour when the party kicks off. Open all year so loved by the locals and a good sunset spot in mid-winter.
Sa Caleta, Playa Sa Caleta
Sa Caleta, also referred to as Es Bol Nou, is a beautiful small sandy bay with some excellent swimming especially for kids as it is generally calm, shallow and sandy. There is a very good seafood restaurant as well (same name, Sa Caleta) although it is not in full view of the beach so it's not ideal if you have young kids playing there. Open all year and a great place for a long lunch in Spring and Autumn. Very popular with locals. Try the famous Café Caleta to finish off a feast.
Casa Jondal, Cala Jondal
Taking over from the down-to-earth and local Es Savina on stunning Cala Jondal is the new high-end chiringuito on the block, Casa Jondal. The quality has risen to fantastic levels and the prices likewise. Chef Rafa Zafra has returned the building back to its Ibicenco roots, a white washed finca sitting on the beach, where beautiful touches of natural, mismatched, wooden furniture and raw, stripped back fabrics, set the scene for a simple, fresh, utterly delicious seafood menu. After many years of the "Super Chiringuito" it's refreshing to see a restaurant going back to Ibiza's culinary roots…beautifully simple, fresh ingredients, cooked to perfection. 
Ses Boques, Es Cubells beach.
Feet in the dusty sand, laidback atmosphere under the Sabina trees and lovely views across the bay. This is one of our top lunch recommendations and is a local treat. You won't find it unless you know about it. The beach is nothing special due to very difficult pebbly access to water but the seafood is fantastic and has been top mark for the last 42 years. In peak season we also recommend that you park your car at the top and walk down as it is a steep road and sometimes hard to get back up when jammed with cars.