Pecador, Santa Eularia
Pecador in Spanish means sinful and if the new beachside restaurant from The W Hotel in Santa Eularia is anything to go by, then being bad never tasted so good. Chef Nandu Jubany's knowledge of popular recipes and a love for their culinary origins, injects the perfect balance of tradition with modern cuisine. The setting is a blend of straw and sun-bleached palm leaves with a beautiful twist of crisp, cream, cotton and wood. Sitting on the incredible Santa Eularia coastline, it's the perfect place to soak up some sea views whilst sipping a cold glass of Albariño. The menu has a wide selection of tapas, try the Sobrasada ecológica con colmena de miel or the croquetas for something lighter or share one of the indulgent paellas if you are feeling more wicked
El Bigotes, Cala Mastella
The stuff of legend? Until recently you couldn't book by phone at El Bigotes; reportedly there wasn´t one. The King of Spain, Juan Carlos 2, was allegedly turned away quite a few years ago for failing to know the rules. Whether the story is true or not is debatable but it´s done it´s trick and El Bigotes is much in demand for a weekend lunch. Always seafood; fresh fish, a good paella, fish soup etc. Perhaps the best 'Bullet de peix' on the island, a wonderful local fish stew dish.
Can Domo, Near cala Llonga
A charming agroturismo from French owners who have transformed an old farm to a little paradise. Excellent French Mediterranean cuisine created with high quality fresh ingredients and a great personal service. Very romantic atmosphere near the swimming pool in the middle of the campo. They won a Michelin Star in 2019, so certainly recommended for an amazing dinner.
Chiringuito Blue, Santa Eularia
This new beach club opened its doors in 2018 and it was exactly what Santa Eularia needed. It's very much a town beach but Ibiza's most pleasant. Very good quality food, perfect service in a lovely setting for decent prices. Here you will find all you want for an enjoyable day right on the sand. Thanks to their kids activities you have your hands free to enjoy your lunch and glass of wine even more.
Passion café, Santa Eularia
Healthy food looking like a true piece of art. All made with love and the best quality, mainly organic, ingredients. Their cafés are great for breakfast, brunch and lunch.But we have to warn you, once you have tasted their fresh juices you might be addicted. Now 7 locations on the island, including San Jose, Ibiza Marina, San Antonio & Santa Eularia.
Cala Bonita, S'Estanyol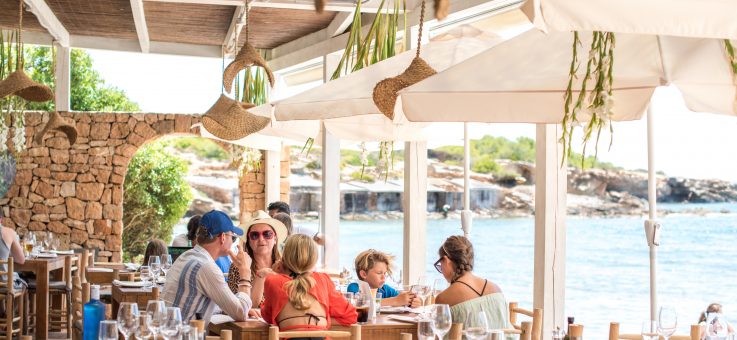 The enchanting bay of S'Estanyol has always been one of Ibiza's coolest and not-so-well-known spots. There is just a single beach restaurant there and it's been a favourite amongst locals for private parties and skinny dips for years. The restaurant was taken over by a new team in 2016, headed up by Australian TV celebrity chef Karen Martini. She has a string of awards 'down under' and the food at Cala Bonita is fantastic. The focus is on Mediterranean flavours using local organic produce with an Aussie twist to many of the dishes. We recommend the seabass and the pasta Sardi. A laid back but stylish set up. Well worth the drive down S'Estanyol's long bumpy track.
Amante beach club, Sol d'en Serra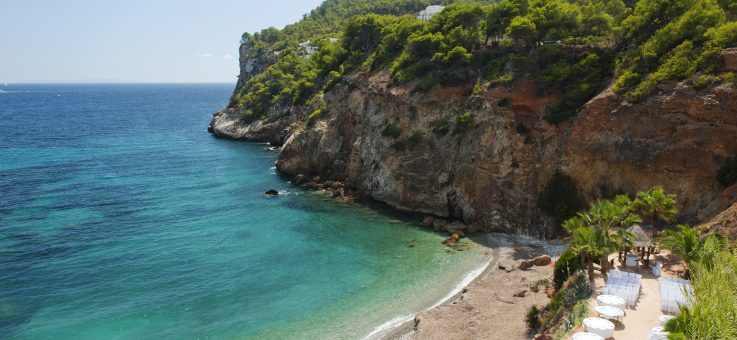 Ibiza´s middle east coast has a lack of stylish restaurants but Amante (plus Cala Bonita) makes up for that. A stunning spot perched on the cliff above the lovely bay of Sol d'en Serra with South Easterly views, it is a special spot for lunch or dinner. The Mediterranean based menu is excellent and there are plenty of sun beds to relax on after a long lunch. The beach below is not always the best for swimming off but once you are in the water it is lovely and clear.
Babylon Beach, Santa Eularia
With a tag line like "Organic Goodness by the Sea" you can be sure you will be getting good produce – they are sourced locally from C'an Pere Mussona farm. A mix of traditional and modern food and place that hosts a nice relaxed atmosphere. There is a big kids zone to keep the little ones entertained but the beach is not really a beach as you have to go down some steps to enter the sea and it is tricky swimming from there. There is often live music or some kind of visual entertainment during the summer months.