Santa Gertrudis Village, San Rafael & surrounds
WOW
Santa Gertrudis. WOW is a restaurant that puzzles up an incredible interactive space with a games lounge, a superb fashion store and various areas for private gatherings. At WOW, the experience is everything, and first impressions are fabulous. As you walk in it definitely has the wow factor. You immediately notice attention to detail is everywhere, the interior design is very stylish and the food is served beautifully.
Amalur
Located in a beautiful blue-hued finca in Santa Gertrudis, Amalur has been an iconic fine-dining spot and part of the island's culinary scene for decades. Italian-influenced, contemporary Mediterranean menu at lunch and dinner, all year round. Seasonally inspired, using the highest quality local produce and created with love, every dish on the hand-written menu is a star in its own.
La Plaza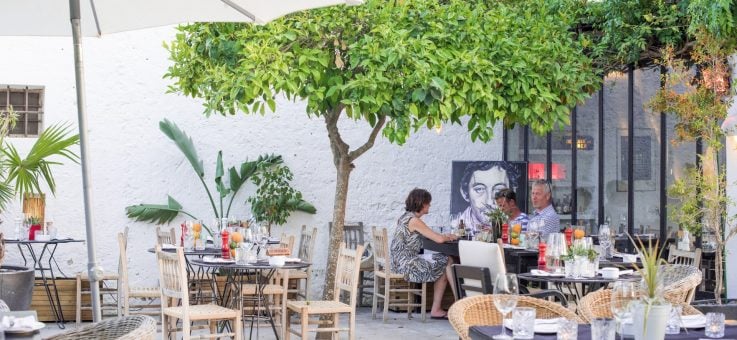 Santa Gertrudis. Med fusión menú, charming walled garden dining off the main church square in the popular Santa Gertrudis. Always solidly good food. There are some great boutiques very close by so we recommend a bit of retail therapy before your dinner!
Bar Costa
Santa Gertrudis. Sit down on one of their low stools and order a caña with a tapas plate full of Spanish ham (jamón) or local cheeses. The large central fireplace and cosy inside perhaps makes it feel more appropriate in winter than summer, but the terrace just off the main town ¨plaza¨ means it's a great place for locals and tourists to hang out in summer too.
Aubergine
Located on the main road from Santa Gertrudis to San Miguel. Very easy to find as they have a bicycle out front. Being right off the main road does not detract from the lovely terraced restaurant where you can relax and enjoy some Mediterranean fare. They source their own produce so you will be eating fresh and local. The rural surroundings make it a family friendly establishment. Make sure you stop by their little shop on your way out!
Macao Cafe
Santa Gertrudis. The evergreen Italian restaurant is still a big draw in the pretty village of Santa Gertrudis. Great meat dishes, pizza and pasta. Always a good buzz in mid summer and family friendly. A nice front terrace under the trees. 
This is perhaps the best Italian restaurant on the island and has the reputation to match.
Es Jardins de Fruitera
Just outside of Santa Gertrudis, the founders of Yemanja at Cala Jondal have opened this traditional Ibicencan eatery. Recommended are the seafood and meats on the grill and if you are in the mood for sharing then order the paella. There is a big terrace great for having lunch in with a separate playground for the kids out back. 
Can Pilot
San Rafael. A meat feast! If you are a vegetarian you might find this a challenging evening. The grilled cuts here are delicious. The smells filling the air from the parrilla are intoxicating and it's smokey enough to make your clothes walk their own way to the washing machine when back at the villa! If meat is your thing then this is your place.
Casa Colonial
Santa Eularia. Lush vegetation and an attractive terrace space make for a very relaxed and private feeling restaurant experience. The food is a mix of French and Thai cuisine. Make sure you order a Thai Wok dish or one cooked in the Olive Wood Oven as this cooking happens right in front of you in the outdoor kitchen. Before or after your meal try out their Ibiza handcrafted Gin called 'Law'.
+34 971 33 80 01, +34 646 37 76 95