Corsario Ibiza
Restaurant is located in a 10th-century building, in the historic center of Dalt Vila (Ibiza). Its walls hide incredible stories and anecdotes featuring important figures such as Grace Kelly, Rainier of Monaco, Salvador Dalí, Ursula Andress, or the members of Pink Floyd.
S'Escalinata
Dalt Vila. This popular bar is located in the enchanting hidden streets of Ibiza's old town Dalt Villa, on a stone staircase padded with colourful cushions, pouffes and small sofas. Tapas menu is very popular, made up of locally-sourced ingredients. Don't miss out on their crusty bocatas, available with different fillings and made with a delicious homemade bread. Cocktails are stunning, made with love and beautifully presented.
Kyüppido
Dalt Vila. The restaurant at La Torre Del Canonigo, contemporary boutique hotel full of character, a fusion of Japanese and Mediterranean dishes with a luxurious twist – lavish gourmet dinner with truffles, caviar and suckling pig with spectacular sea views over Ibiza town.
Dilo
Plaza del Parque. Great location and very popular with local clients. Stylishly decorated and the food is exquisite. The grilled steak and the fritada de pulpo (fried octopus) are delicious.
La Dispensa
Split into four distinctly decorated Ibicencan houses right in the heart of Dalt Vila, this authentic, rustic restaurant gets top marks for design. In the main restaurant you can ponder over the pasta jars and wine bottles lining the walls as display in what appears to be a quintessentially Italian storeroom as you enjoy your meal. Somewhat over priced because of where it geographically sits but nonetheless a fun ambience and well worth a dinner.
La Bodega
Mercat Vell, Ibiza Town. Right in the thick of it, by the ramp going up into the old walled town. Tasty tapas and great cocktails, go for a G&T in fishbowl glass. It certainly won't win culinary awards but it is a fun lively place to eat when in town and it has become an Ibiza old town favourite.
Casa Sudaca
Ibiza Port. Casa Sudaca (Sudaca being slang for South American) is a tribute to the meat-eating destination that is Argentina, with a team of experts running the show. They serve the best international and ethically farmed cuts from entraria (skirt steak) and slow-cooked Iamb to rib-eye, chorizo and farm fresh chicken. The meat, the melted cheese (provolone) served on an iron plate, the vegetables — all of it delicious.
Marea Ibiza Club
Ibiza Port. Executive Chef Patricia Negro is described as the soul of this Ibiza restaurants' kitchen. Negro and the Marea Ibiza Club team serve up some of the finest seafood plates on the isle. To start we can't go past the fresh fish ceviche, grilled cuttlefish (chipirones) and the garlic prawns.
El Olivo
Plaça de la Vila, Ibiza. Virtually opposite it's near namesake, La Oliva. Everyone forgets which is which. La Oliva has the better food. Both offer a very similar experience so come to El Olivo if La Oliva is booked up.
La Brasa
Just off Plaza del Parque, Ibiza town. This is arguably the best known restaurant in Ibiza town. It has a charming atmosphere and offers al fresco dining in a pretty patio. As the name suggests, grilled meats and fish are served up from the 'brasa'. The food is probably not as good as the promise but people still go back there.
Gran Hotel Montesol
Vara de Rey. One of Ibiza's most emblematic hotels, first inaugurated in 1933. The likes of Orson Welles and Pink Floyd stayed here in the past. It has been renovated in all of its neo-colonial grandeur right in the heart of Ibiza town. The restaurant has also been given a complete makeover and now offers a good selection of Mediterranean food. Not quite the Raffles in Singapore but the feeling is still very colonial lobby bar. The bar is right next to the restaurant so expect a buzz. The only criticism is that the bar service is very slow, but definitely worth the cocktail, once you get it.
The Standard Hotel
Vara de Rey. Set in the heart of Ibiza's old town, in a striking all-white contemporary building, The Standard, Ibiza comes with a versatile rooftop pool, restaurant, and bar, with views of the city's castle and rooftops. The decor is beautiful, service is exceptional and the food delicious.
Chidas Bar and Cantina
Plaza Pintor Vicent Calbet. Mexican street food vibe serving homemade salsas, fresh pico de gallo and seasonal tacos. Great fish and fruits ceviches.
La Oliva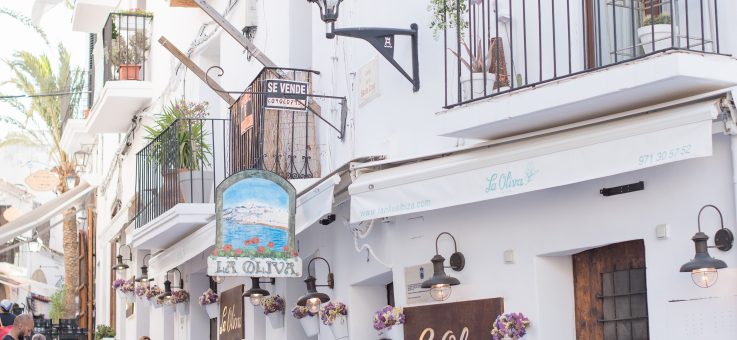 Plaza de la Vila. This is on the main thin plaza just inside the old city walls. Mediterranean cuisine. A great experience for summer dining. Take time for a walk around the old city first. Very busy in mid summer. La Oliva is positioned where the square begins to get thinner and turns into more of a passageway. 
La Torreta Ibiza
Located in a charming cobbled street which slopes up towards some great views. All dishes are delicious and beautifully presented. Staff is attentive and friendly. Always busy and definitely need to book ahead.
 • +34 971 30 04 11
Noja by Cotton Food Lab
Ibiza Town. Intimate, exclusive and oozing with Japanese culinary traditions. The location pays homage to back-street Tokyo dining, and houses sleek interiors and a refined dining experience. With only 24 seats and two service sittings each night, we love sitting at the bar to watch the sushi masters at play.
Taller Sa Penya
D'Alt Vila has some hidden gems that are hard to uncover. Once you climb above the famously fun gay street Calle de la virgin the edgier and darker the tiny streets become. Persevere, be courageous, and you will find the latest hot dining experience; Taller Sa Penya by the Ibiza Food Studio. Probably not one for the little ones but Incredible food that you won't forget.

Reart
Plaza de la Graduada, Ibiza Town. Reart is a great modern tapas restaurant on the island. It's in the middle of Ibiza Town but just out of the more popular tourist area so can be easily overlooked. However, If you like mouth watering food and prefer avoiding eye watering prices, this is your place to visit. Whilst perhaps not every tapa will hit a top mark, the creativity and blend of flavours work very well. The website describes their focus on ¨simple but elaborated tapas with local products¨ and this is definitely delivered. Head chef David Reartes works away in the open kitchen whilst diners enjoy his creations in a slightly urban vibe.
Casa Maca
Ibiza Town surroundings. One of the island's well known foodie hangouts, located at a privileged hilltop position near Ibiza town, restaurant Casa Maca is one of the places you should definitely discover. Enjoy stunning views of the beautiful Dalt Vila from the open-air dining space while you savour the finest cuts of meat, freshly caught fish prepared over a flaming open fire and farm-grown vegetables picked directly from the restaurant's onsite garden. The authentic atmosphere makes up for a perfect evening out.
Bar1805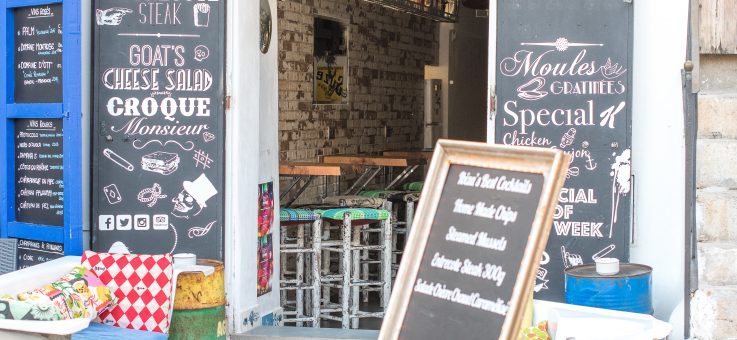 Ibiza town. Sitting in a tiny plaza in the old town. Run by Charles, an eccentric young French guy, this eclectic cocktail bar and restaurant serves typical French food. From mussels to foie gras to Entrecote (should you be looking for a more copious platter). The food is solidly good but not amazing and the service is sometimes chaotic but this place has a great vibe and is definitely a jazzy place to have a drink and a nibble.
Locals Only
Plaza del Parque. Well-priced Italian styled Osteria right on Plaza del Parque in the heart of Ibiza town. Local organic produce with a good wine variety. The locals love it but not to worry, non-locals are also very welcome!
Maison Le Vrai
Plaza del Parque. A modern restaurant with a fine French cuisine and excellent service. Thanks to their classy interior with a mirror ceiling and velvet chairs you'll forget you are in Ibiza. Great place for a romantic dinner, but not the most appropriate for dinner with children.