Reart
Reart is arguably the best modern tapas restaurant on the island. It's in the middle of Ibiza town but just out of the more popular tourist area so can be easily overlooked. However, if you like mouth watering food and like to avoid eye watering prices this is a very good restaurant to visit. Many locals do which is always a good sign. Whilst perhaps not every tapa hits top marks, the creativity and blend of flavours work very well. The website describes it's focus on 'Simple but elaborate tapas with local products' and this is definitely delivered. Head chef David Reartes works away in the open kitchen whilst diners enjoy his creations in a slightly urban vibe.
La Bodega
Mercat Vell, Ibiza Town. Right in the thick of it, by the ramp going up into the old walled town. Tasty tapas and great cocktails, go for a G&T in fishbowl glass. It certainly won't win culinary awards but it is a fun lively place to eat when in town and it has become an Ibiza old town favourite.
La Oliva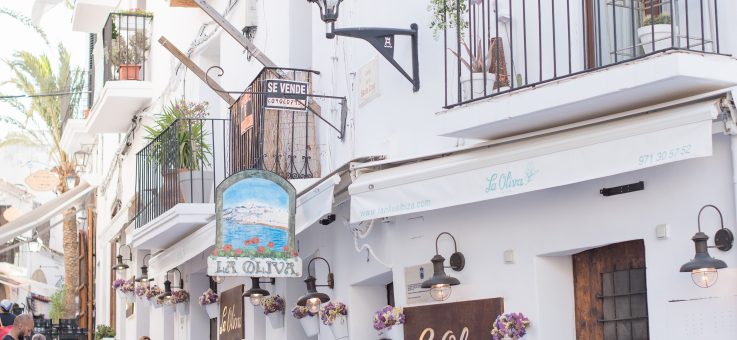 Placa de la Vila, Ibiza. This is on the main thin plaza just inside the old city walls. Mediterranean cuisine. A great experience for summer dining. Take time for a walk around the old city first. Very busy in mid summer. La Oliva is positioned where the square begins to get thinner and turns into more of a passageway.
El Olivo
Plaça de la Vila, Ibiza. Virtually opposite it's near namesake, La Oliva. Everyone forgets which is which. La Oliva has the better food. Both offer a very similar experience so come to El Olivo if La Oliva is booked up.
La Mezcaleria
A colourful Mexican culinary experience right in the centre of Dalt Vila. Truly 'Mexiterranea' (Mediterranean fused with Mexican) you will wash down the flavourful mouthfuls of top-notch ceviche with some of their exotic mescal. If you have a bit of time and want to make this delicious experience last try their five-course adventure complete with tasting and pairing.
Can Terra
Av. Ignacio Wallis, Ibiza town. An excellent tapas restaurant that also serves meat and seafood from the grill. The menu is very short but the taste is very good. Good wines too. The atmosphere is more Barcelona than Ibiza. It has a great buzz and there is no pre booking. Just turn up, let the waiter know you are there to eat, have a drink and wait your turn. Don't be put off by the packed entrance. The wait is well worth it. Well priced too. A bit too small and congested to bring young kids.
La Brasa
Just off Plaza del Parque, Ibiza town. This is arguably the best known restaurant in Ibiza town. It has a charming atmosphere and offers al fresco dining in a pretty patio. As the name suggests, grilled meats and fish are served up from the 'brasa'. The food is probably not as good as the promise but people still go back there.
Gran Hotel Montesol, Vara de Rey
One of Ibiza's most emblematic hotels, first inaugurated in 1933. The likes of Orson Welles and Pink Floyd stayed here in the past. It has been renovated in all of its neo-colonial grandeur right in the heart of Ibiza town. Now owned by Hilton, in their Curio boutique hotel range. The restaurant has also been given a complete makeover and now offers a good selection of Mediterranean food. Not quite the Raffles in Singapore but the feeling is still very colonial lobby bar. The bar is right next to the restaurant so expect a buzz. The only criticism is that the bar service is very slow, but definitely worth the cocktail, once you get it.
Locals Only
Well-priced Italian styled Osteria right on Plaza del Parque in the heart of Ibiza town. Local organic produce with a good wine variety. The locals love it but not to worry, non-locals are also very welcome!
La Dispensa
Split into four distinctly decorated Ibicencan houses right in the heart of Dalt Vila, this authentic, rustic restaurant gets top marks for design. In the main restaurant you can ponder over the pasta jars and wine bottles lining the walls as display in what appears to be a quintessentially Italian storeroom as you enjoy your meal. Somewhat over priced because of where it geographically sits but nonetheless a fun ambience and well worth a dinner.
Bar1805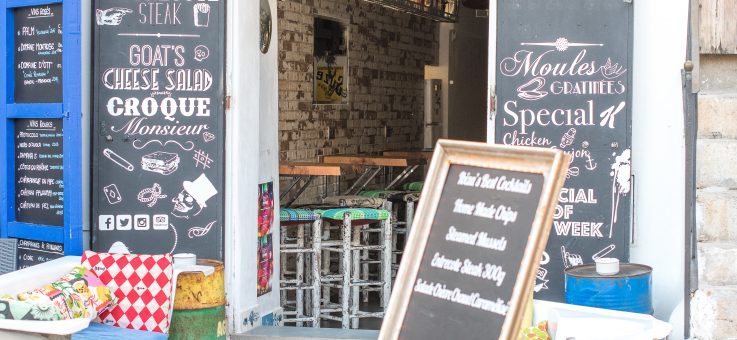 Sitting in a tiny plaza in the old town. Run by Charles, an eccentric young French guy, this eclectic cocktail bar and restaurant serves typical French food. From mussels to foie gras to Entrecote (should you be looking for a more copious platter). The food is solidly good but not amazing and the service is sometimes chaotic but this place has a great vibe and is definitely a jazzy place to have a drink and a nibble.
Maison Le Vrai, Ibiza
A modern restaurant with a fine French cuisine and excellent service. Thanks to their classy interior with a mirror ceiling and velvet chairs you'll forget you are in Ibiza. Great place for a romantic dinner, not good for dinner with kids.