Central Ibiza
Santa Gertrudis Village, San Rafael & surrounds
Macao Cafe
The evergreen Italian restaurant is still a big draw in the pretty village of Santa Gertrudis. Great meat dishes, pizza and pasta. Always a good buzz in mid summer and family friendly. A nice front terrace under the trees. This is perhaps the best Italian restaurant on the island and has the reputation to match.
La Plaza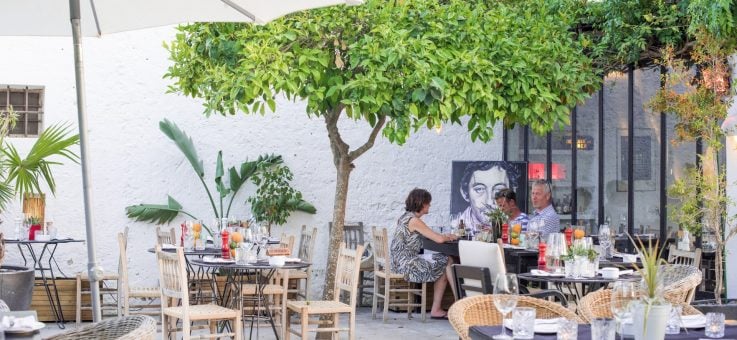 Med fusión menú, charming walled garden dining off the main church square in the popular Santa Gertrudis. Always solidly good food with some real quality at times. There are some great boutiques very close by so we recommend a bit of retail therapy before your dinner!
Es Jardins de Fruitera
Just outside of Santa Gertrudis, the founders of Yemanja at Cala Jondal have opened this traditional Ibicencan eatery. Recommended are the seafood and meats on the grill and if you are in the mood for sharing then order the paella. There is a big terrace great for having lunch in with a separate playground for the kids out back.
La Belle Ibiza, San Rafael
A dinner restaurant offering high quality French cuisine in the stylish and intimate surroundings of the old El Ayoun restaurant in the centre of San Rafael. It has a much fresher feel to it than the old establishment and has adopted more of a bohemian chic vibe. There is a some decent table side entertainment as well. Give it a go if you are close by.
Can Pilot, San Rafael
A meat feast! If you are a vegetarian you might find this a challenging evening. The grilled cuts here are delicious. The smells filling the air from the parrilla are intoxicating and it's smokey enough to make your clothes walk their own way to the washing machine when back at the villa ! If meat is your thing then this is your place.